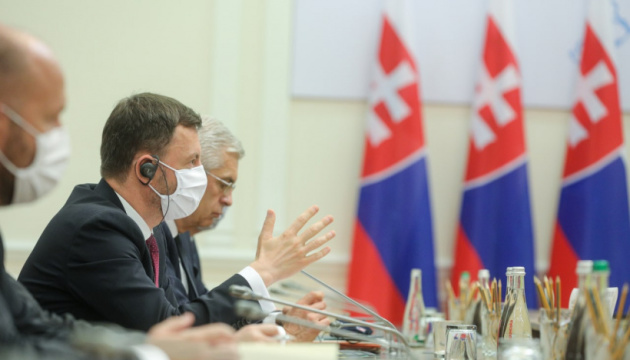 Ukraine, Slovakia share position on danger of Nord Stream 2 to European security
Ukraine and Slovakia have a common position regarding the danger of the Nord Stream 2 gas pipeline to European security and will oppose its completion.
Prime Minister of Ukraine Denys Shmyhal said this after a meeting with Prime Minister of the Slovak Republic Eduard Heger in Kyiv on May 28, according to an Ukrinform correspondent.
"I would like to note the common position of Kyiv and Bratislava regarding the Nord Stream 2 political project, which threatens the security and integrity of the European Union," Shmyhal said.
According to him, active opposition to the implementation of this project in the international arena meets the common interests of Ukraine and Slovakia.
Prime Minister of Slovakia Eduard Heger is on an official visit to Ukraine on Friday, May 28.
Nord Stream 2, a 1,200 km-long gas pipeline between Russia and Germany, is already 94% complete. A year ago, the pipeline's construction was suspended due to U.S. sanctions, but the Russian side resumed work on its own with the consent of the German side. However, recently, the new U.S. administration, in order to improve relations with the Federal Republic of Germany, somewhat softened its position by removing the Nord Stream 2 AG operator and its management from sanctions.
Ukraine regards Nord Stream 2 as one of the most dangerous geopolitical projects of Russia.
ish