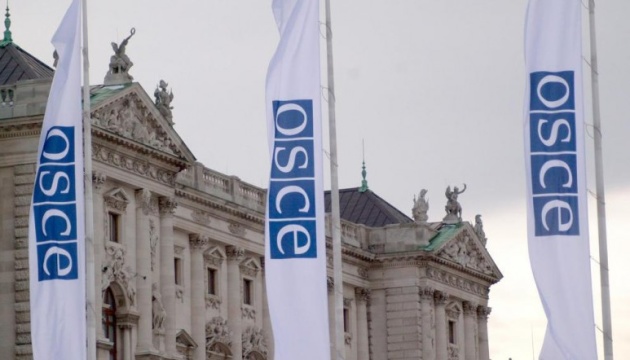 U.S. urges Russia to recommit to OSCE-brokered ceasefire in eastern Ukraine
The United States calls on Russia to end armed provocations in eastern Ukraine and recommit to the OSCE-brokered ceasefire.
Chargé d'Affaires of the U.S. Mission to the OSCE Courtney Austrian said this at an online meeting of the OSCE Permanent Council in Vienna on Thursday, May 27, an Ukrinform correspondent reports.
"It is important we remember Ukrainian soldiers and civilians continue to be wounded and killed because of Russia's aggression. We urge Russia to fully reverse its military buildup and recommit to the OSCE-brokered ceasefire," she said.
The diplomat stressed that significant numbers of Russian military forces remained in place along the Russia-Ukraine border, in Russia-occupied Crimea, and in eastern Ukraine along the line of contact within Ukraine. "It has been nearly two months since Ukraine invoked the Vienna Document's paragraph 16 risk reduction mechanism with respect to Russia's aggressive and unilateral build-up of military forces in March and April. Moscow refused to provide a substantive response," she noted.
According to Austrian, Russia's actions have increased tensions in an already volatile region. "Thanks to Ukraine's restraint in the face of Russia's military activity, the conflict in the Donbas did not escalate, though violence continues on a daily basis," she summed up.
As reported, Ukraine informed the OSCE that Russia continues to keep up to 100,000 servicemen, about 1,300 tanks, 3,700 armoured vehicles, up to 1,300 artillery systems, and 380 rocket systems along the border with Ukraine and in the temporarily occupied Crimea.
In early April, the Russian Federation amassed a group of about 110,000 troops near the eastern borders of Ukraine and in the occupied Crimea, raising concerns of the Ukrainian authorities and Western partners.
Later, Russia announced the withdrawal of its troops from Ukraine's borders under the pretext of "successful completion of exercises", but at the same time leaves its military presence and technical equipment near Ukraine's borders and in the temporarily occupied territories of eastern Ukraine and Crimea.
ish