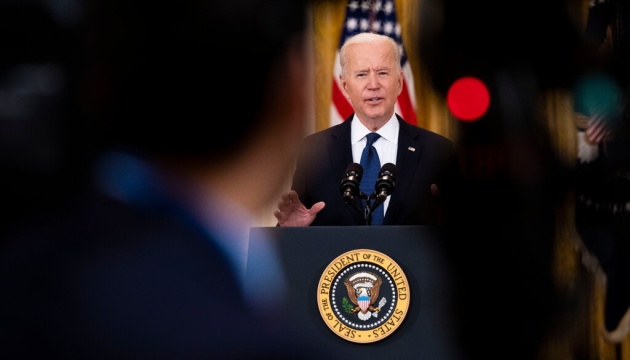 Biden to express support for Ukraine at meeting with Putin - White House
U.S. President Joe Biden plans to discuss the issue of Ukraine at a meeting with his Russian counterpart Vladimir Putin in Geneva, underscoring U.S. support for Ukraine.
White House Press Secretary Jen Psaki said this at a press briefing in Washington on Tuesday, May 25, according to an Ukrinform correspondent.
"The President will also raise Ukraine, underscoring America's support for Ukraine's sovereignty and territorial integrity. And he will also plan to raise Belarus and convey our grave concerns," Psaki said.
She also noted that in general, the two countries' leaders will have a broad discussion about strategic security issues in the world, as well as other aspects where the parties have their interests.
"We expect they will spend a fair amount of time on strategic stability, where the arms control agenda goes following the extension of New START. Obviously, we're both members of the P5+1 [a group of nations working together on the Iran Nuclear Deal], as well, as those negotiations are ongoing," Psaki said.
She stressed that the scheduled meeting was three weeks away, so there could be a range of issues that could be discussed during the summit.
At the same time, Psaki said that Washington "doesn't regard the meeting with the Russian President as a reward; we regard it as a vital part of defending America's interests." In this context, Psaki noted that this is how diplomacy works. "We don't meet with people only when we agree. It's actually important to meet with leaders when we have a range of disagreements, as we do with Russian leaders," she said.
The White House officially confirmed on May 25 that Biden intended to meet with Putin in Geneva, Switzerland, on June 16.
Photo: The New York Times