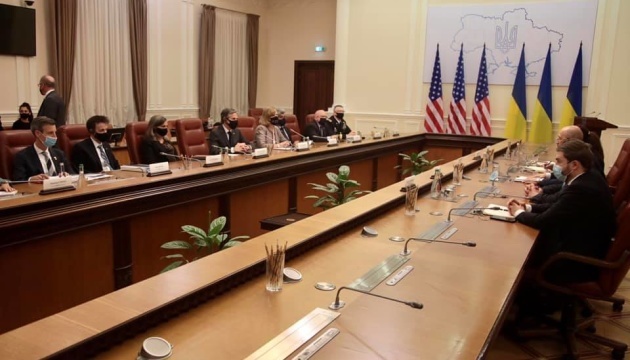 Shmyhal, Blinken discuss wide range of issues of bilateral relations
Prime Minister of Ukraine Denys Shmyhal held a meeting with U.S. Secretary of State Antony Blinken in Kyiv today, according to the Government portal.
"We stand ready to comprehensively step up bilateral political and sectoral dialogue. I am convinced that the common interests of Ukraine and the United States regarding the whole scope of relations are a solid foundation for the development of cooperation and strategic partnership in political and security, defense, trade and economic, energy, technological, and other spheres," Shmyhal noted.
During the meeting, the prime minister and the secretary of state discussed a wide range of issues of bilateral relations with regard to the security situation, reforms, and cooperation with the International Monetary Fund (IMF).
Shmyhal stressed that Ukraine is steadily adhering to the course of reforms, in particular fighting against corruption and ensuring the rule of law.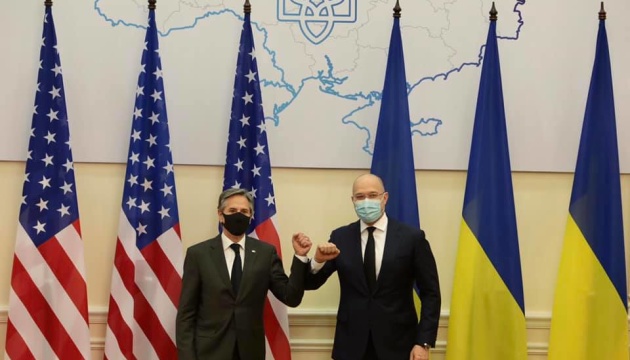 "Ensuring the effective operation of anti-corruption institutions, the integrity and independence of the judiciary and the prosecutor's office are part of our agenda both in the context of Euro-Atlantic integration and a criterion for further cooperation with the IMF and the World Bank," the PM said.
During the meeting, the head of government informed the secretary of state about the adoption of a law that unblocked the process of privatization of large state-owned enterprises in Ukraine and called on the United States to participate in privatization auctions.
Shmyhal thanked the American side for helping to strengthen Ukraine's defense capabilities and providing military and technical support.
"We highly appreciate the consistent stance of the United States on the issue of non-acceptance and immediate cessation of aggressive actions by the Russian Federation in the temporarily occupied territories and along the state border with Ukraine," he stressed.
In addition, Shmyhal thanked Blinken for his position on the construction of Nord Stream 2 and for understanding the consequences of the completion of the project for Ukraine and Central European countries.
In turn, the secretary of state emphasized that the United States will continue to support Ukraine, its territorial integrity and inviolability.
On May 6, U.S. Secretary of State Antony Blinken arrived in Ukraine on a working visit, during which he will meet with top officials and public figures.