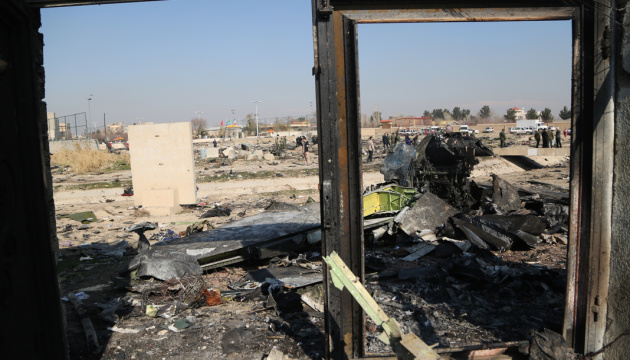 UIA plane crash: State Aviation Administration delivers remarks to Iran's draft report
The State Aviation Administration of Ukraine delivered its remarks to the draft final report prepared by the Civil Aviation Organization of the Islamic Republic of Iran based on the results of the investigation into the UIA plane crash over Tehran.
This was announced by Minister of Infrastructure of Ukraine Vladyslav Kryklii during a meeting with Minister of Transport of Canada Omar Alghabra, Ukrinform reports with reference to the Ministry of Infrastructure.
It is noted that relevant remarks were also provided to the representatives of Canada.
"Ukraine seeks truth and justice in the investigation into the crash of Flight PS752 and punishment of the perpetrators. We are currently working on the proper response of the Ukrainian side to numerous violations of international law during the investigation into the downing of Flight PS752. We support the involvement of foreign representatives, including representatives of Canada, in the relevant process and joint preparation and submission of a complaint about the relevant actions of the Islamic Republic of Iran to the ICAO Council," Kryklii said.
As reported, on March 17, the Civil Aviation Organization of the Islamic Republic of Iran released the final report on the crash of a Ukrainian passenger plane in January 2020. The document states that the plane was shot down after it had been identified as a hostile target due to a mistake by the air defence operator.
Ukrainian Foreign Minister Dmytro Kuleba called Iran's report an attempt to hide the true causes of the crash, and his deputy, Yevheniy Yenin, said that Ukraine would demand that Iran's report on the UIA plane crash must be considered by the ICAO Council and that the Iranian side resume and continue its technical investigation.
On January 8, 2020, Ukraine International Airlines plane (Flight PS752) heading from Tehran to Kyiv crashed shortly after taking off from the Imam Khomeini International Airport. There were 176 people on board – nine crew members (all Ukrainians) and 167 passengers (citizens of Ukraine, Iran, Canada, Sweden, Afghanistan, Germany, and the UK).
On January 11, Iran admitted that its military had accidentally shot down the Ukrainian passenger jet. Iran's Islamic Revolutionary Guard Corps (IRGC) accepted full responsibility for the downing of the Ukrainian airliner.
On February 20, Iran announced the completion of the investigation into this case.
ol