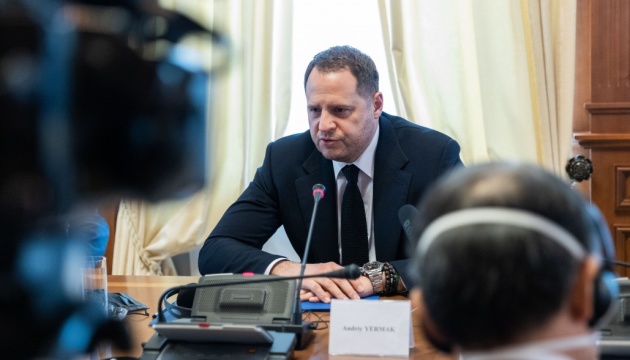 Yermak sees idea of inviting Putin to Kyiv as wrong
Head of the Ukrainian President's Office Andriy Yermak has said he thinks that it would be a wrong idea to invite Russian President Vladimir Putin to a meeting in Kyiv.
He said this in an interview with the LIGA.net news site, according to Ukrinform.
"No, I think it is wrong," Yermak said when asked if the Ukrainian authorities were ready to invite Putin to Kyiv.
At the same time, he said he considered that Putin's talks with Ukrainian President Volodymyr Zelensky in a place where war is ongoing would be appropriate.
Yermak recalled that during a video conference of political advisers to the leaders of the Normandy Four countries, Dmitry Kozak proposed that they meet at the contact line and hold meetings at the level of advisers there.
"I retorted that I definitely have no problems with this and I often go there. Reporting to the president on the video conference, I also told him about this moment of negotiations. Then I can only quote our president when he addressed Putin: 'I am ready to go even further and offer you to meet in any part of the Ukrainian Donbas where war is ongoing'," he said.
According to Yermak, this indicates that Ukraine is ready to continue negotiations. And it is important to do so in a place where the Ukrainian military defend their homeland every day, and to look into the eyes of people who risk their lives every day, he said.
"According to our information, the vast majority of Ukrainians killed recently were the victims of snipers - snipers who, according to our information, are of Russian descent," Yermak added.
He also noted that the Ukrainian authorities were working to end the war as soon as possible, but since this is a very sensitive issue, some specific dates are not named.
op