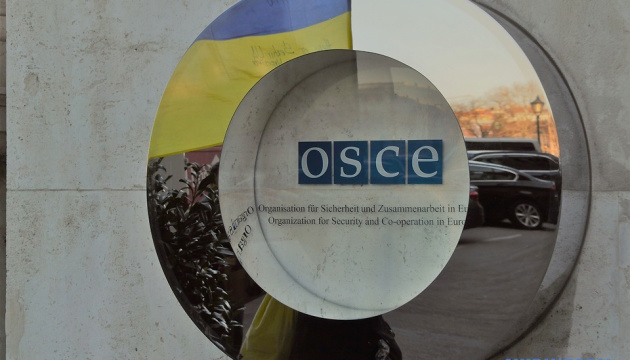 Ukraine at OSCE: Occupiers in Crimea and CADLR force detainees to incriminate themselves
Russian occupation administrations in Crimea and certain areas of Donetsk and Luhansk regions (CADLR) use torture to force illegally detained Ukrainian citizens to incriminate themselves.
"We must not forget about the fate of Ukrainian citizens illegally detained by the Russian occupation administrations in Crimea and Donbas. The Russian occupiers do not hesitate to use torture to force detained persons to incriminate themselves, as they (the occupation administrations) cannot present any meaningful evidence to support the false accusations," Yevhenii Tsymbaliuk, Permanent Representative of Ukraine to the International Organizations in Vienna, said at the OSCE Permanent Council meeting on April 15.
Tsymbaliuk underscored that Ukraine strongly condemned this practice, demonstrated in particular by the case of Vladyslav Yesypenko, a freelance journalist captured in the occupied Crimea.
"We remind the Russian side of its own commitments, including the most recent one taken at the 27th Tirana OSCE Ministerial Council by the adoption of the MC Decision on prevention and eradication of torture and other cruel, inhuman or degrading treatment or punishment," Ukraine's Permanent Representative stressed.
As reported, FSB officers detained and then arrested Radio Free Europe/Radio Liberty's freelance journalist Vladyslav Yesypenko in the temporarily occupied Crimea on March 10. The day before, he and other Crimeans took part in an action dedicated to Taras Shevchenko's birthday.
On March 12, Yesypenko was charged under Part 1 of Art. 223 of the Criminal Code (illegal manufacture, repair and modification of firearms), as well as illegal manufacture of ammunition. The Kyivsky District "Court" of Simferopol ruled to take Vladyslav Yesypenko into custody for two months, until May 11.
The independent lawyers were prevented from visiting Yesypenko during his detention in the Simferopol pre-trial detention center.
On April 6, Yesypenko told the "court" that he had been tortured by Russian security forces.
The Office of the OSCE Representative on Freedom of the Media stated that they were shocked by the reports on the torture of the detained journalist.
ol