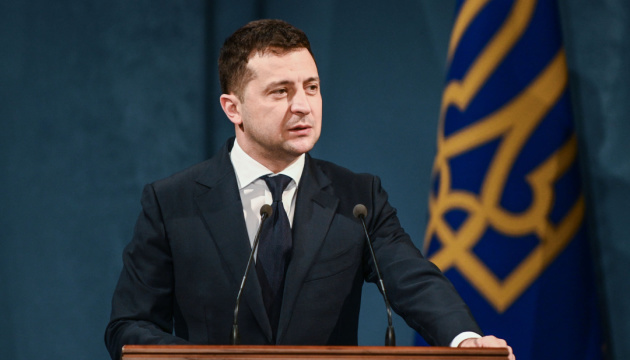 Zelensky: Military aggression is incentive to restore status of leading aerospace state
President Volodymyr Zelensky believes that optimization, development of public-private partnership, and international cooperation with the achievement of associate membership in the European Space Agency are important for the Ukrainian space industry.
"The world expects new approaches from us. We have the desire and all the opportunities to assert ourselves with renewed vigor. Optimization of the industry, development of public-private partnership, international cooperation are on the agenda. Ukraine's associate membership in the European Space Agency comes next," Zelensky posted on Facebook, Ukrinform reports.
The President noted that the first human flight into space took place 60 years ago, and called the space industry "a romantic dream that has become a strategic direction."
At the same time, he stressed that the first flight would have been impossible without Ukraine as Ukrainian designers played a key role in the implementation of the Soviet space program.
"Now Ukraine is a member of the club of space nations and occupies a rightful place among its 13 members. Despite all the challenges, our designers continue to create and launch satellites, manned spacecraft and orbital stations," the President said.
According to him, the task of the state in the space industry now consists of two points: to preserve everything that has been done by the older generations and to make every effort to ensure that the successes of previous years were not the only ones.
The President is convinced that our generation must make a significant contribution to the development of the rocket and space industry.
"In the context of military aggression, this area should be considered a key element of national security and defense. This is another incentive to restore leadership and the status of a leading aerospace state," Zelensky said.
He stressed that the announced plans must be implemented in concrete steps.
The President assured that the creation of the State Space Program will streamline intentions and give an understanding of what and how we will do to achieve the large-scale goal. The President also added that it is necessary to fully resume funding for strategically important projects, including the Sich-2-1 space system.
ol