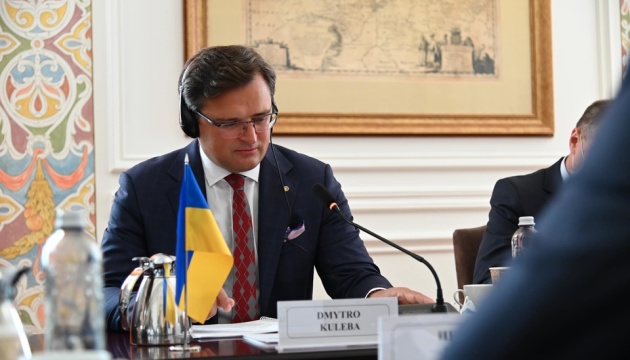 Foreign ministers of Ukraine and France discuss Russia's aggravation of security situation
Minister of Foreign Affairs of Ukraine Dmytro Kuleba and Minister of Europe and Foreign Affairs of France Jean-Yves Le Drian discussed Russia's aggravation of the security situation.
This was reported by the press service of the Ministry of Foreign Affairs of Ukraine.
During a phone call, Kuleba informed his French counterpart in detail about the latest actions of the Russian Federation aimed at destabilizing the security situation in the temporarily occupied territories of Ukraine. In particular, the minister drew attention to the threatening build-up of Russia's military presence along the Ukrainian border and the strengthening of Russian propaganda.
"The current escalation contains a threatening element that we have not seen before. We are talking about the numerous statements by Russian officials who almost every day openly threaten Ukraine with war and speak publicly about the destruction of our state. We regard them as recognition of aggressive intentions," Kuleba stressed.
He assured that Ukraine does not want to be at war and remains committed to a political and diplomatic settlement of the conflict.
In turn, Le Drian noted that France is also watching with concern the build-up of Russian troops along the borders of Ukraine and in the temporarily occupied territories. He assured of France's continued support for the sovereignty and territorial integrity of Ukraine. At the same time, the French minister emphasized the balanced and wise actions of Ukraine in the current situation.
In addition, Kuleba expressed his conviction that France is capable of revitalizing the Normandy format for a peaceful settlement. In this regard, Le Drian confirmed that the French side is interested in the Normandy format remaining effective and efficient.
The interlocutors also discussed measures of bilateral political dialogue and promising economic projects between the two states.
As Ukrinform reported, the Russian armed forces have recently been building up troops near the state border of Ukraine in the north, east and south, as well as in the occupied Crimea. In addition, the number of ceasefire violations in eastern Ukraine by the armed formations of the Russian Federation has increased; there are losses among the soldiers of the Armed Forces of Ukraine. In parallel, the Russian Federation is conducting a propaganda campaign to justify possible aggression against Ukraine.
On April 6, it also became known that, against the background of a buildup of troops to the Ukrainian border, Russia had begun a control check of the army's combat readiness.
ish