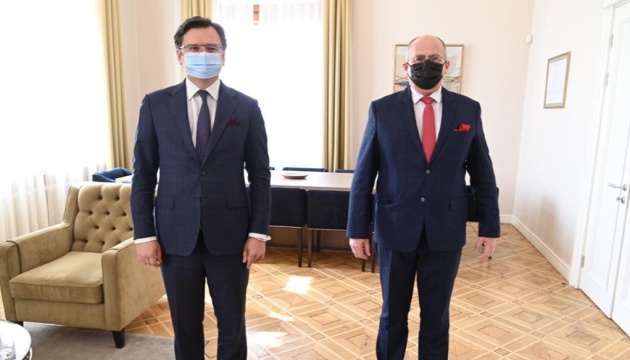 Foreign ministers of Ukraine and Poland discuss Russia's escalating aggression
Minister of Foreign Affairs of Ukraine Dmytro Kuleba and Minister of Foreign Affairs of the Republic of Poland Zbigniew Rau agreed to jointly consolidate efficient international support for Ukraine against the background of escalating Russian aggression.
"Kuleba informed Rau in detail about Russia's systematic aggravation of the security situation in the temporarily occupied territories of Ukraine, the concentration of Russian troops near the borders of Ukraine, and the increase in the intensity of Russian propaganda," the press service of the Ministry of Foreign Affairs of Ukraine informs.
Zbigniew Rau expressed concern over Russia's actions and assured that Poland consistently and firmly supported Ukraine in its struggle for sovereignty and territorial integrity.
The chief diplomats agreed to make joint efforts to consolidate efficient international support for Ukraine in countering Russian aggression.
The ministers also discussed deepening of military-political cooperation, the energy component of regional security, in particular in the context of implementation of the Nord Stream 2 project, the future chairmanship of Poland in the OSCE. The parties paid special attention to strengthening the cooperation between Ukraine, Poland and Lithuania in the Lublin Triangle format and the preparations for the inaugural summit of the Crimean Platform.
According to the Foreign Ministry's press service, Poland expressed support for Ukraine's course towards full membership in the EU and NATO.
"Our countries are united by a common vision of Europe's past and future. Ukraine is an integral part of a holistic, free and peaceful Europe, and Ukraine's accession to the EU and NATO will be a natural stage in the historical process," Dmytro Kuleba said.
The ministers agreed on joint efforts to increase trade and investment, creating new opportunities for companies of the two countries. Moreover, the parties discussed further military-technical cooperation, cross-border and near-border cooperation, preservation of cultural and historical heritage, overcoming consequences of COVID-19 pandemic.
ol