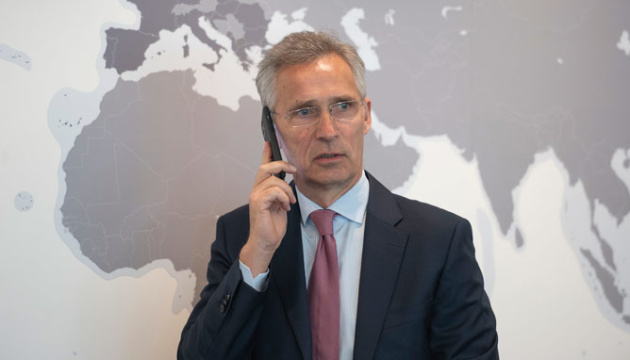 Zelensky informs Stoltenberg about escalation on Ukraine's border with Russia
Ukrainian President Volodymyr Zelensky has informed NATO Secretary General Jens Stoltenberg about the escalating security situation in eastern Ukraine and called for NATO's stronger military presence in the Black Sea region.
The two leaders discussed these issues in a phone call on Tuesday, April 6, the presidential press service reported.
"In recent weeks, we have seen a very dangerous tendency towards a growing number of ceasefire violations by the Russian occupation forces and the number of Ukrainian defenders killed," Zelensky said.
He also spoke about Russia's deployment of troops to Ukraine's borders, which he said is ongoing, and their increased readiness for offensive action.
At the same time, Zelensky thanked Stoltenberg for the Alliance's attention to the security situation around Ukraine and called on NATO member states to pay more attention to security issues in the Black Sea and strengthen their military presence in the Black Sea region.
"Such a permanent presence should be a powerful deterrent to Russia, which continues its large-scale militarization of the region and hinders merchant shipping," Zelensky said.
He stressed that the possibility of obtaining a Membership Action Plan remained the most urgent issue in Ukraine's relations with NATO.
"We are committed to reforming our army and defense sector, but reforms alone cannot stop Russia. NATO is the only way to end the war in Donbas. The MAP will be a real signal for Russia," Zelensky said.
Earlier, Commander-in-Chief of the Ukrainian Armed Forces Ruslan Khomchak said in his speech to the Verkhovna Rada that Russia had deployed 28 battalion tactical groups along the state border of Ukraine, as well as in the temporarily occupied territories of Ukraine and Crimea, which poses a potential threat to Ukraine's national security.
On April 4, on the 72nd anniversary of the North Atlantic Treaty Organization, President Volodymyr Zelensky expressed hope for the support of NATO partners in providing the MAP to Ukraine.
op