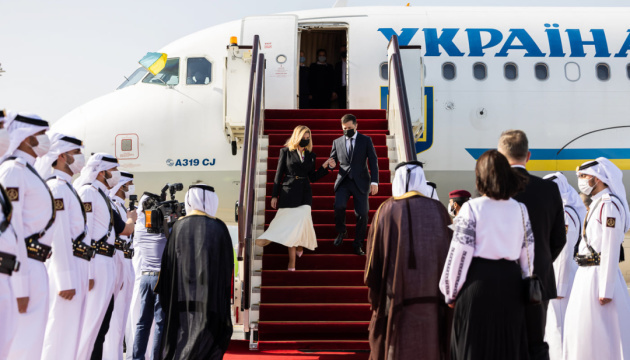 Ukraine views Qatar as key partner in Gulf region, Arab world - Zelensky
Ukraine views Qatar as one of its key partners in the Gulf region and the Arab world and is working to strengthen economic cooperation, Ukrainian President Volodymyr Zelensky has said.
He said this in an interview with Qatari media outlets, the text of which was published on the website of the head of state.
"Ukraine considers Qatar as one of the key partners in the Gulf region and the Arab world as a whole. We are now working to increase the volume of economic cooperation and expand cooperation between our countries in all areas of mutual interest," Zelensky said.
He also said that he had a common vision with Emir of Qatar Sheikh Tamim bin Hamad Al Thani on the need to intensify Ukrainian-Qatari relations.
Zelensky said that cooperation between the two countries in various fields had been significantly intensified in recent years and expressed hope that his current visit would give additional impetus to the deepening of friendly Ukrainian-Qatari relations.
Zelensky said that during the visit he was accompanied by a large delegation consisting of the ministers of interior, energy and agrarian policy, a number of heads of state institutions and agencies, including in the field of infrastructure and military-technical cooperation, who will hold separate talks with their partners in Doha.
"Today we plan to sign a package of bilateral documents on deepening cooperation in the legal and security spheres, in the field of food security, energy, youth and sports, healthcare. We also plan to sign documents on mutual recognition of seafarers' certificates and driver's licenses," he said.
Zelensky added that it was planned to sign a number of commercial and investment agreements to expand investment cooperation between the two countries.
President Volodymyr Zelensky and his wife, Olena Zelenska, are on an official visit to Qatar on April 5.
op