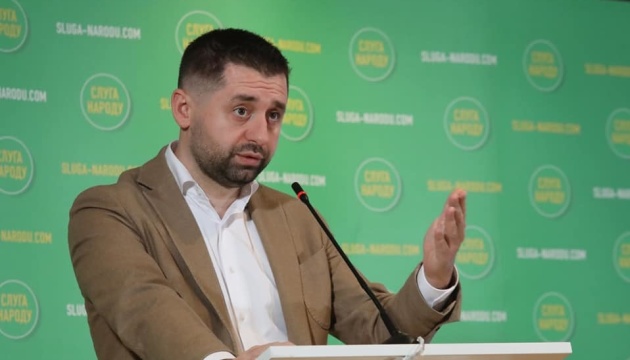 Arakhamiya: U.S. support strengthens Ukraine's defense capabilities
David Arakhamiya, the leader of the Servant of the People party faction, has stated that the support provided by the United States of America strengthens Ukraine's defense capabilities.
As Ukrinform reports with reference to the press service of the Servant of the People party, this was discussed during Arakhamiya's online meeting with U.S. Congressman Matt Cartwright on March 31.
Arakhamiya thanked the Congressman for many years of assistance to Ukraine, in particular, the approval by Congress of a law on U.S. military support for Ukraine.
"Amid the aggression and temporary occupation of part of our territories by Russia, such support contributes to the strengthening of the Armed Forces of Ukraine and, consequently, the defense capabilities of Ukraine," he said.
In addition, the parties discussed the situation with the spread of coronavirus infection in Ukraine and the United States. The Congressman talked about the American experience of imposing restrictive measures during the pandemic.
For his part, Arakhamiya pointed out that Ukraine did not introduce a national lockdown. After all, the positive practice of "red zones" of quarantine in the regions shows that total restrictions can be avoided.
"There is no curfew or legal regime of state of emergency in Ukraine. We have much more liberal restrictions, which are set at the regional level. This, of course, has a negative impact on the economy, but the total restrictions would have worse consequences," Arakhamiya said.
The politicians agreed to hold a large-scale online meeting of all representatives of the Friends of Ukraine group in the U.S. Congress and representatives of the Verkhovna Rada as soon as possible.
It is noted that Matt Cartwright represents the Democratic Party of the United States and is a member of the Friends of Ukraine group, actively supporting our state. In addition, the Congressman is a member of the Appropriations Committee, which determines the level of spending on economic and military assistance to Ukraine.
ol