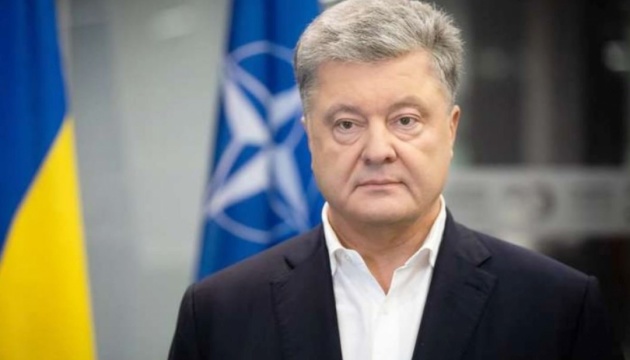 Poroshenko declares over $51M, UAH 423M in cash
European Solidarity party leader and former Ukrainian President Petro Poroshenko keeps more than $51 million and UAH 423 million in cash, according to his asset declaration published in the register of declarations.
The ex-president also has 3,589,180 U.S. dollars, 331,292 hryvnias, 43,861 euros and 50,109 pounds in his bank accounts.
Poroshenko lent 1,111,000 hryvnias and 1,030,000 U.S. dollars to third parties last year.
He contributed more than UAH 8 million to credit unions and other non-bank financial institutions.
The politician's wife, Maryna Poroshenko, has 10,115 hryvnias, 90 U.S. dollars and 3,408 euros in her bank accounts.
Last year, Petro Poroshenko received a salary of 504,540 hryvnias as an MP. He also declared 7,016,338 hryvnias in interest and 199,975,230 hryvnias and 14,227,550 hryvnias in dividends. Poroshenko earned almost 300,000 hryvnias from the sale of movable property.
In 2020, Maryna Poroshenko earned 66,000 hryvnias in the Poroshenko Charitable Foundation.
Petro Poroshenko owns a residential building with outbuildings with a total area of 1,331.7 square meters in the village of Kozyn, Obukhiv district, Kyiv region. He also declared six plots of land with a total area of 54,391 square meters.
The politician also owns three apartments - 134.06-square-meter and 82.15-square-meter apartments in Kyiv and a 68.2-square-meter apartment in Vinnytsia.
His wife owns an 82.3-square-meter apartment in Kyiv. She also owns a land plot of 1,875 square meters and a residential building of 343.6 square meters in the village of Petropavlivske, Boryspil district, Kyiv region.
Petro Poroshenko also owns a 2015 Mercedes-Benz S 500L and a 2015 Mercedes-Benz S600L. His wife owns a 2008 Jaguar XF 4.2 L V8.
The ex-president also declared a number of securities.
op
Last year, Poroshenko spent more than UAH 30 million on legal services, including those spent in the UK.