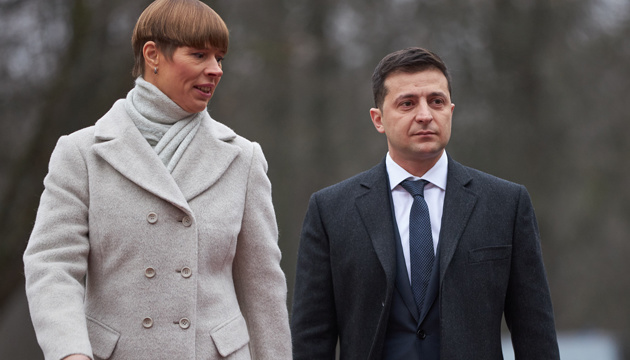 Zelensky, Kaljulaid discuss situation in Donbas, integration into EU and NATO
President of Ukraine Volodymyr Zelensky had a phone conversation with President of the Republic of Estonia Kersti Kaljulaid on March 31.
"The parties focused on countering the spread of the coronavirus pandemic and ensuring a proper vaccination procedure, which is currently underway in both Ukraine and Estonia. The interlocutors stressed the importance of ensuring proper access of countries to certified vaccines," the press service of the Head of State informs.
The President of Ukraine expressed gratitude for Tallinn's strong support for the sovereignty and territorial integrity of Ukraine, especially in the context of Estonia's non-permanent membership in the UN Security Council in 2020-2021.
The President of Ukraine briefed Kersti Kaljulaid on the security situation on the contact line in Donbas and stressed that in recent weeks there had been a dangerous tendency to increase the number of ceasefire violations and the number of killed.
"The number of ceasefire violations has increased, but we are working to ensure the ceasefire in the same way as last year, when there were ten times less shelling, wounds and deaths in Donbas," said Volodymyr Zelensky.
During the conversation, special attention was paid to the priority steps of Ukraine in the context of further deepening of relations with the European Union. Zelensky stressed the invariability of Ukraine's strategic goal of full membership in the EU and expressed hope for Estonia's active support in achieving this ambitious task.
The President stressed that Ukraine formed a broad coalition of EU member states that support Ukraine's EU prospects.
"I hope that Estonia, as our close and reliable partner, will be able to join this important initiative," Volodymyr Zelensky said.
The President of Ukraine emphasized that Ukraine hoped to obtain the NATO Membership Action Plan, and noted that this year's NATO summit would be very important in advancing this issue.
Kersti Kaljulaid stressed that Estonia supports Ukraine's Euro-Atlantic aspirations.
The President of Ukraine also raised the issue of energy security, which is a component of the policy as a whole.
"The Nord Stream 2 project is a threat to our region, a challenge to the European continent, a test of the international community's ability to consolidate to counter Russia's intentions to monopolize the energy market in Europe. We must make every effort to prevent the completion of this project," the President of Ukraine stressed.
Volodymyr Zelensky reminded that in August 2021, as part of the celebration of the 30th anniversary of Ukraine's independence, a large-scale event will take place in Kyiv – the inaugural summit of the Crimean Platform, to which world leaders, including the President of Estonia, are invited.
"We are waiting for you at the celebration of the 30th anniversary of Ukraine's independence and at the first summit of the Crimean platform," Volodymyr Zelensky said.
ol