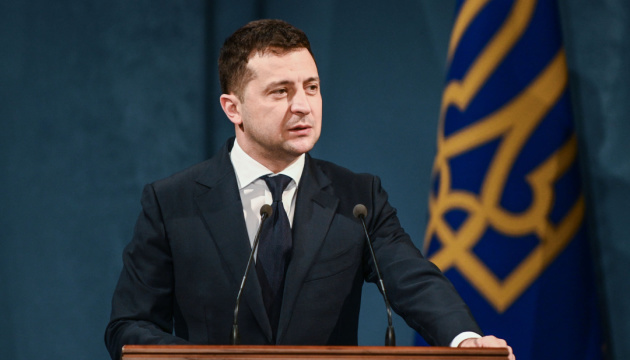 Zelensky calls on politicians not to discredit vaccination process
Ukrainian President Volodymyr Zelensky has called on politicians not to discredit the COVID-19 vaccine and the vaccination process in general because of their ambitions, the presidential press service has reported.
"I strongly urge these politicians to choose very carefully the words that fly out of their mouth. Because they will definitely have to answer for each of these words both to the law of Ukraine and to God. Decide for yourself which is the greater argument for you," Zelensky said.
According to the report, Ukraine received 215,000 doses of the COVID-19 vaccine from Chinese manufacturer Sinovac Biotech last week and expects the next batch in the coming weeks.
Zelensky said that the signed contract provides for almost two million doses of the vaccine.
"Apart from China, the Sinovac vaccine is already used in 18 countries around the world. In particular, Turkey, where President Erdoğan and Patriarch Bartholomew were vaccinated with it," Zelensky said.
In addition, according to him, almost 50 million people in India and Europe have been vaccinated with the CoviShield vaccine from AstraZeneca, which eloquently demonstrates the recognition of its safety and quality.
"The number of vaccinated people and the pace of vaccination in Ukraine is growing daily. Of course, these figures are still far from ideal, but it must be acknowledged that all European Union countries have also lagged behind the vaccination plan. We are actively working for the successful implementation of the vaccination plan in Ukraine. For this, both the readiness of society to vaccinate and the provision of a sufficient number of vaccines are important," Zelensky said.
According to him, the vaccination process is facing difficulties, as India has restrictions on the export of the vaccine, and Ukraine expects the Indian government to reconsider this decision.
"However, it should be understood that public statements by some Ukrainian politicians do not contribute to a positive solution to this issue at all, but rather strongly hinder it. They have launched a large-scale and dirty campaign to discredit both the vaccine itself and the vaccination process in general," he said.
A batch of 500,000 doses of the CoviShield vaccine, developed by Oxford University and AstraZeneca, arrived in Ukraine on February 23.
The first batch of the CoronaVac vaccine from China's Sinovac Biotech was delivered to Ukraine on March 25.
op