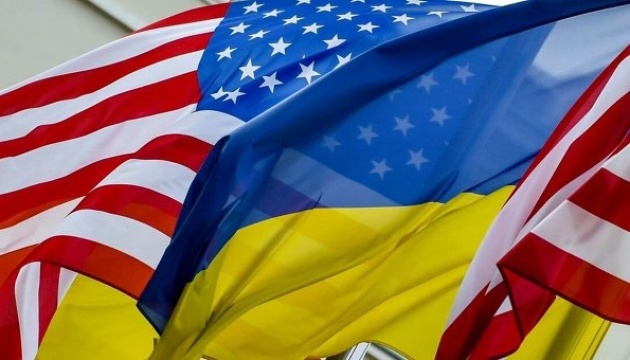 Space and nuclear energy: President' Office outlines priorities in cooperation with US
Ukraine is deeply interested in developing trade and investment cooperation with the United States.
"We would like to further develop cooperation in the fields of agriculture, nuclear and renewable energy, as well as in the aerospace sector. We strive to dramatically increase the volume of bilateral trade and attract American investors and technology to Ukraine," Deputy Head of the President' Office Yulia Svyrydenko said during an online discussion with American and European politicians and experts, organized by the Atlantic Council, Ukrinform reports citing the President's press service.
According to her, it is extremely important for Ukraine that the United States join the negotiation process on Donbas in the Normandy and Minsk formats to make them as efficient as possible. At the same time, the Deputy Head of the Office of the President stressed that the United States, the European Union and Ukraine should coordinate their actions.
Svyrydenko noted that it was also important for the Ukrainian side to receive a clear signal from the United States regarding Ukraine's membership in NATO: "We seek to strengthen military cooperation between the United States and Ukraine to further increase the cost of any new military aggression. We must oppose all aspects of hybrid warfare together. These include cyber threats, information attacks and systemic propaganda."
As the President' Office representative noted, Ukraine will be grateful if the United States considers introducing a new comprehensive sanctions regime until the war in Ukraine ends. According to her, these sanctions should remain in effect until Ukraine's control is fully restored over eastern Ukraine and Crimea.
Yulia Svyrydenko stressed that Ukraine appreciated the strong bipartisan position of the American authorities on the Nord Stream 2 project.
"This project remains a big threat to Ukraine's national security. And when we discuss expectations from the new U.S. administration, the shutdown of this pipeline is absolutely critical for us. The project could seriously damage the Ukrainian economy and threaten energy security in Europe. We appreciate the strong U.S. opposition to this Russian geopolitical energy project," she said.
The discussion was attended by First Deputy Speaker of the Verkhovna Rada of Ukraine Ruslan Stefanchuk, Democratic member of the U.S. House of Representatives and Co-Chair of the Ukraine Caucus in the Congress Marcy Kaptur, Republican member of the U.S. House of Representatives Brian Fitzpatrick, President and CEO of the U.S.-Russia Foundation Celeste Wallander, U.S. Ambassador to Ukraine in 2003-2006 John Herbst. The discussion was moderated by former Prime Minister and Minister of Foreign Affairs of Sweden Carl Bildt.
ol