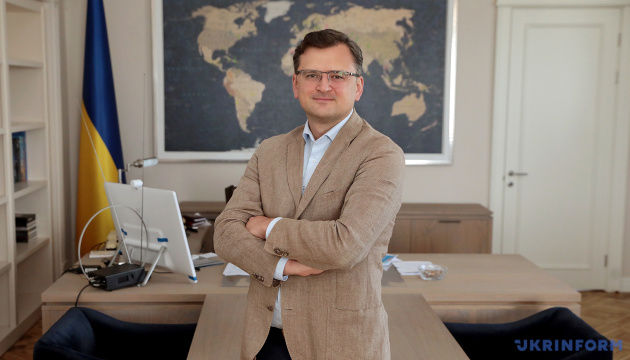 Kuleba names top five achievements of Ukrainian diplomacy for year
Minister of Foreign Affairs of Ukraine Dmytro Kuleba has named the five major achievements of Ukrainian diplomacy over the past year.
This was said in a statement posted on the Foreign Ministry's Facebook page.
According to Kuleba, "Ukrainian diplomacy stands for the protection of the Ukrainian state, Ukrainian business and Ukrainian citizens. We work every day to realize the choice made by the Ukrainian people. To make Ukraine a successful, strong, European state, a member of the EU and NATO; a Ukrainian proud of his country in the world and feel that it protects him; and make Ukraine a success story and move forward."
"I know that by joint efforts we will achieve the goal. Everything will be Ukraine," the minister stressed.
Kuleba listed the top five achievements of the year as follows: NATO's Enhanced Opportunities Partnership, Ukraine is among the Alliance's six closest partners in the world; the Lublin Triangle united three states – Ukraine, Lithuania, and Poland – in a new format; return of more than 250,000 citizens home at the beginning of a global lockdown, attraction of humanitarian aid to counter COVID-19, including more than 3 million tests, over 1,500 ventilators of various types, and almost 6 million pieces of personal protective equipment; release of more than 30 Ukrainians from pirate, terrorist captivity, life imprisonment, and a total of more than 1,600 citizens from prison abroad with the assistance of Ukrainian diplomats; business: Ukrainian companies, with the assistance of the Ministry of Foreign Affairs and embassies, won 73 tenders abroad and concluded 53 contracts with foreign partners, as well as the Ministry of Foreign Affairs and the State Service of Ukraine on Food Safety and Consumer Protection opened three new sales markets.
As reported, March 4 marks the anniversary of the Cabinet of Ministers of Ukraine headed by Denys Shmyhal.
ish