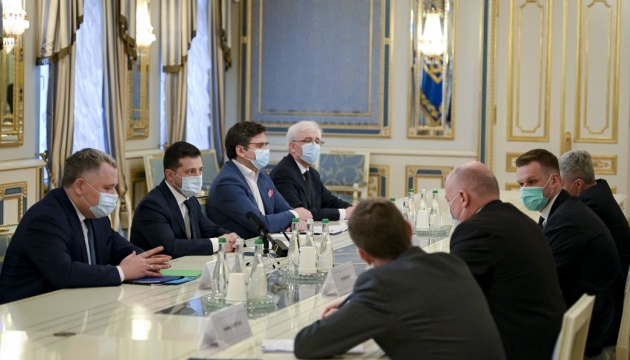 Zelensky asks Lithuania to help Ukraine with COVID-19 vaccine
Ukrainian President Volodymyr Zelensky has asked Lithuania to help speed up the supply of more COVID-19 vaccines to Ukraine.
He said this at a meeting with Lithuanian Foreign Minister Gabrielius Landsbergis in Kyiv on Wednesday, February 24, the president's press service reported.
According to the report, the sides discussed the situation in Ukraine and Lithuania in connection with the coronavirus pandemic and measures being taken by the leadership of both countries to overcome the pandemic and ensure the protection of citizens.
"Volodymyr Zelensky asked for help in speeding up the supply of more vaccines and offered Ukraine's assistance in its mass production if necessary," the President's Office said.
At the same time, Zelensky recalled that at the beginning of the pandemic Ukraine supported some EU countries by providing personal protective equipment and the assistance of health workers.
Landsbergis is on a working visit to Ukraine on February 23-24. He said on February 23 that Lithuania was ready to share with Ukraine a surplus of the COVID-19 vaccine when it becomes available.
Vaccination against coronavirus in Ukraine started on February 24.
Some 1,317,694 cases of COVID-19 were confirmed in Ukraine as of February 24, including 5,850 new cases recorded on February 23.
op