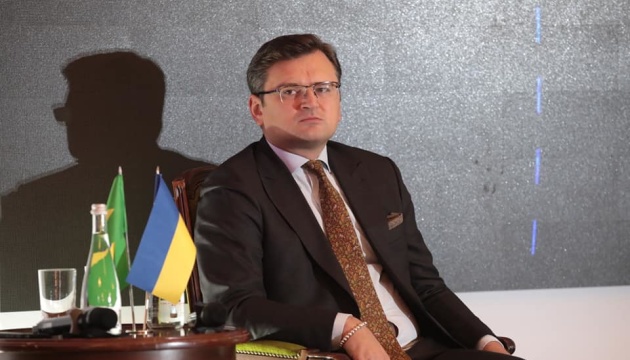 FM Kuleba: Russia building up its nuclear potential in Crimea
Minister of Foreign Affairs of Ukraine Dmytro Kuleba believes that the hybrid aggression of the Russian Federation against Ukraine undermines the architecture of global security, and states that Russia builds up its nuclear potential in the temporarily occupied Crimea.
"Russia's hybrid aggression against Ukraine undermines global security architecture built on such fundamental international instruments as the Treaty on the Non-Proliferation of Nuclear Weapons, the Convention on the Prohibition of the Development, Production and Stockpiling of Bacteriological (Biological) and Toxin Weapons and on Their Destruction, the Convention on Prohibitions or Restrictions on the Use of Certain Conventional Weapons Which May be Deemed to be Excessively Injurious or to Have Indiscriminate Effects," Kuleba said during the high-level segment of the Conference on Disarmament in 2021, Ukrinform reports with reference to the Ministry's press service.
The minister also drew the attention of the conference participants to "threatening and illegal build-up of Russia's nuclear potential in the temporarily occupied Crimea, which undermines the nuclear-weapon-free status of the Ukrainian peninsula."
Kuleba called on those present to consider the temporary occupation of the Crimean peninsula and Russia's launch of the armed conflict in certain areas of Donbas as a threat of its military expansion into the east and south of the European continent.
At the same time, he assured of Ukraine's readiness to assist in the resumption of the effective work of the Conference, in particular, to take an active part in drafting the Treaty Banning the Production of Fissile Material for Nuclear Weapons or Other Nuclear Explosive Devices.
The minister expressed Ukraine's readiness to take part in the creation of a universal document that would provide effective security guarantees for non-nuclear member states parties to the Treaty on the Non-Proliferation of Nuclear Weapons.
Russia started the armed aggression against Ukraine on February 20, 2014 by seizing part of Ukraine's territory - the Crimean Peninsula.
On March 16, 2014, the so-called "referendum on the status of Crimea" was held on the territory of Crimea and Sevastopol. In two days, on March 18, 2014, the so-called agreement on the accession of the Republic of Crimea to the Russian Federation was signed at the Kremlin.
Most UN member states and other international organizations declared the Crimean referendum falsified by the occupiers illegitimate.
ol