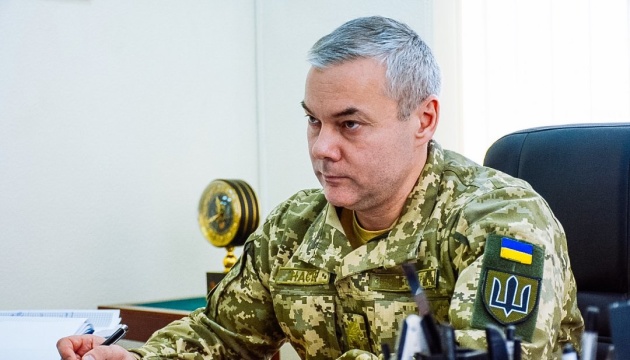 Nayev: Russian army in Crimea needs 2.6 mln cubic meters of water a year
The increase in Russian troop numbers in Crimea significantly affects the water supply to the local population. Currently, about 33,000 Russian servicepersons are deployed on the peninsula and need, according to the Russian Defense Ministry norms, about 2.6 million cubic meters of water a year.
"The fact that the leadership of the Russian Federation is currently unable to fully provide Crimea with fresh water is quite obvious. And this, first of all, causes further decline of industry and agriculture, and is also a prerequisite for the emergence of humanitarian and environmental problems. According to official data, as of January 1, 2021, a total of 2,416,856 people live in the temporarily occupied territory of the Autonomous Republic of Crimea on a permanent basis. At the same time, the current Russian troop strength is about 33,000 people," Commander of the Joint Forces of the Armed Forces of Ukraine, Lieutenant General Serhiy Nayev said in an exclusive comment to Ukrinform.
Given Russia's current policy, the Commander did not rule out that the size of Russian troops on the peninsula would continue to grow.
"Russia continues to 'pump' the peninsula with occupation troops. Given this fact and in accordance with the norms of the Russian Ministry of Defense, such strength of troops requires about 2.6 million cubic meters of water a year. Also, in addition to military personnel, it is necessary to take into account the maintenance of military equipment, household needs and, most importantly, the creation of additional water reserves for autonomous supplies in case of emergency to prevent reduced combat readiness of military units," Nayev said.
Such actions of the military-political leadership of Russia, increase in the number of servicepersons of the Russian Armed Forces in Crimea and creation of a military base there significantly affect the level of water supply to the local population, the Commander stressed.
Until 2014, Ukraine provided 85% of Crimea's fresh water needs through the North Crimean Canal which connects the Dnieper with the peninsula. After Russia had occupied Crimea, water supplies to Crimea were cut off. Currently, water reserves on the peninsula are replenished from reservoirs and underground sources. According to Crimean environmentalists, regular use of underground sources leads to salinization of soil.
The UN Human Rights Monitoring Mission in Ukraine has repeatedly stated the need for its experts to enter the territory of the occupied peninsula, emphasizing that Russia has the primary responsibility for ensuring the water supply of the peninsula.
On February 8, 2021, head of the Water of Crimea enterprise Vladimir Bazhenov stated that water reserves in Crimea continue to drop.
ol