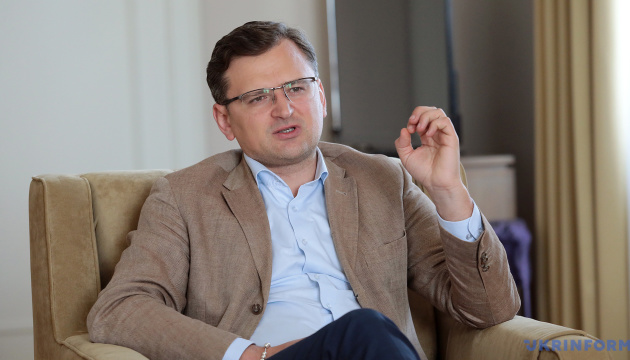 Kuleba: Advisers to Normandy Four leaders communicate almost every day
Advisers to the leaders of the Normandy format countries communicate almost every day and try to find a solution that will move forward the settlement of the conflict in Donbas.
"Unfortunately, due to the position of Sergey Lavrov, the Normandy format at the level of foreign ministers is frozen actually. But the advisers work, the process is very lively, believe me – they communicate almost every day in an attempt to find something in common that will allow moving forward. We fiercely defend our 'red lines' and stand by them. At the same time, Mr. Kozak [Russia's representative in the Normandy format Dmitry Kozak] pushes his vision hard. Therefore, the process is very difficult," Foreign Minister of Ukraine Dmytro Kuleba said on the air of the Priamyi TV channel, an Ukrinform correspondent reports.
He reminded the key positions of the Ukrainian side: negotiations are held with the Russian Federation, not with the so-called "LPR" and "DPR", and the border should come under Ukrainian control before the elections. At the same time, Russia states that it is only a mediator, insisting on the recognition of the "LPR / DPR" and holding elections before the transfer of control over the border to Ukraine.
"That is, in fact, there is a discussion about these issues... Andriy Yermak [Head of the President's Office], who represents Ukraine, finds it difficult to constantly go through the same conversation, but he maintains a very clear and rigid position. In fact, it looks like nothing is moving anywhere but, let's admit, it's much better than saying, 'Okay, let's proceed on your terms' and move on. We will never do that because these are fundamental moments, these are very serious things that directly concern Ukraine and its national security," the foreign minister stressed.
As reported, on January 27, Head of the Office of the President of Ukraine Andriy Yermak took part in a meeting of political advisers to the leaders of the Normandy format via a video conference. According to the President's Office, the parties discussed steps that could intensify the peace process in Donbas.
ol