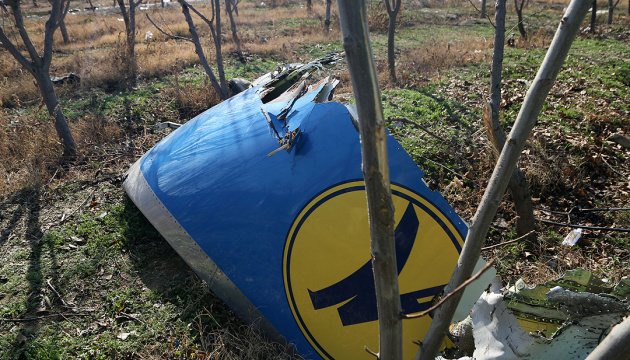 Iran unwilling to cooperate in probe into UIA plane crash, Yenin says
The actions of the Iranian side do not promote the strengthening of confidence in the investigation into the downing of the UIA plane.
"From the very first days following the tragedy, Ukrainian investigators reached the Iranian colleagues and sent requests for international legal assistance. At the same time, unfortunately, the answers to these requests either come with significant delays or do not contain factual information, which is extremely necessary for the advancement of the Ukrainian investigation," Deputy Foreign Minister of Ukraine Yevhenii Yenin said on the air of Ukraine 24 TV channel, Ukrinform reports.
According to him, the Ministry of Foreign Affairs of Ukraine has repeatedly stressed during the talks with Iran that Ukraine, like the entire civilized international community, is interested in the transparency of this process.
"We insisted that Iran should lift the veil on those events, at least for a narrow circle of experts. We also proposed to create a joint investigation team. We insisted on joint investigative actions. However, the Iranian side has not given a favorable response to these proposals," he said.
As reported, on January 8, 2020, Ukraine International Airlines plane (Flight PS752) heading from Tehran to Kyiv crashed shortly after taking off from the Imam Khomeini International Airport. There were 176 people on board – nine crew members (all Ukrainians) and 167 passengers (citizens of Ukraine, Iran, Canada, Sweden, Afghanistan, Germany, and the UK).
On January 11, Iran admitted that its military had accidentally shot down the Ukrainian passenger jet. Iran's Islamic Revolutionary Guard Corps (IRGC) accepted full responsibility for the downing of the Ukrainian airliner.
On January 5, 2021, Ukrainian Foreign Minister Dmytro Kuleba said that Ukraine had received from Iran a draft technical report on the circumstances of the crash of flight PS752, and should prepare its comments by the end of February.
On February 16, Kuleba said that Ukraine expected to receive from Canada an audio recording, in which a man identified as Iran's Foreign Minister Mohammad Javad Zarif discusses the possibility that the destruction of Flight PS752 was an intentional act.
On Saturday, February 20, Iran informed about the completion of the investigation into the crash of the Ukrainian plane over Tehran.
ol