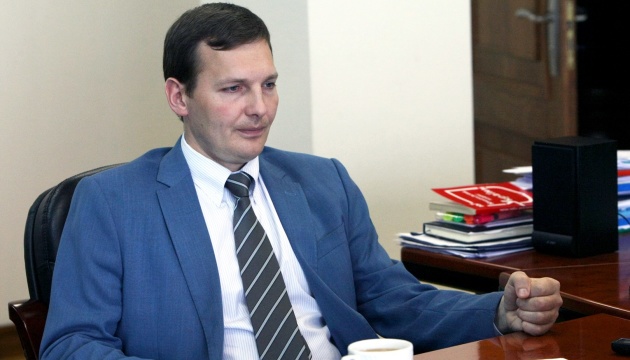 Yenin on occupation of Crimea: This precedent can be used in other world's regions
Russia has set a precedent in Crimea for forcible change in borders and is now working out opportunities to use its military machine in other parts of the world.
"By and large, we've faced the first forcible change in borders after World War II. Today we observe it in Crimea. We can only wonder where this precedent will be used tomorrow. We know that not only the Russian side has the ambitions to forcefully change the borders. I know for sure that these issues are of great concern to our Japanese colleagues. The precedents are taken exactly from Crimea," Deputy Minister of Foreign Affairs of Ukraine Yevhenii Yenin said at the forum "Asia Strategy in Action. The Role of Ukraine-Japan Cooperation", an Ukrinform correspondent reports.
The diplomat noted that the situation in Crimea and Donbas is a clear example of the policy of Russian revisionism and evidence of a critical weakening of the force of norms and institutions of international law.
Yenin added that he was particularly concerned about the growing militarization of the occupied peninsula and even its possible nuclearization.
"This is not just a qualitative and quantitative strengthening of the Russian military force on the territory of the temporarily occupied Crimea. It is also an increase in the operational capabilities of the Russian military machine in relation to their possible operations in various theaters of operations. We are talking about the Persian Gulf, about possible separate operations in the regions of Asia and the Mediterranean," the Ukrainian deputy minister warned.
Earlier, Permanent Representative of the President of Ukraine to the Autonomous Republic of Crimea Anton Korynevych said at an online meeting of the OSCE Forum for Security Co-operation that the Russian Federation uses the peninsula as the main material base for military operations in Syria, for active naval exercises and closure of maritime areas, including the exclusive economic zone of Ukraine around the occupied Crimea. There are also signs of the restoration of nuclear military facilities on the peninsula.
ol