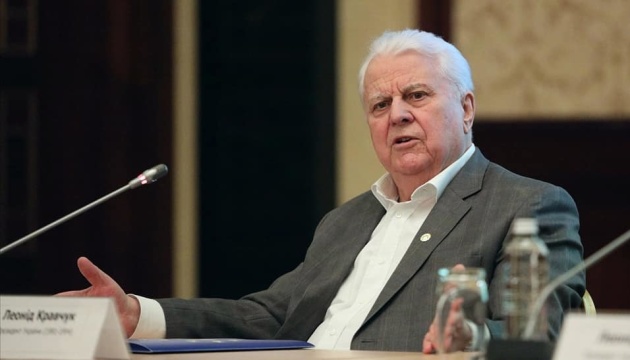 It's almost impossible to agree with Russia on Donbas - Kravchuk
Progress on the settlement of the armed conflict in Donbas is virtually impossible due to Russia's position, and this situation is unlikely to change in the near future, according to Leonid Kravchuk, the head of the Ukrainian delegation to the Trilateral Contact Group.
He said this in his speech at the All-Ukrainian Forum "Ukraine 30. Payment Documents," according to an Ukrinform correspondent.
"We can state that it's almost impossible to agree with the Russian Federation on the settlement of the situation in Donbas in the status in which they see themselves and what tasks they set. That is, we must face this reality. We should not think that anything may change in the near future," Kravchuk said.
He noted that the situation in Donbas was getting worse, and "this cannot be ignored." Russia "has appropriated the title of a mediator, saying that it is not a party to the conflict and it generally does not understand its role in this issue," Kravchuk said.
He also said that he had taken part in a program on Russia's Channel One, during which the leader of the so-called DPR, Denis Pushilin, openly stated his intention to gradually integrate the occupied territories into Russia.
"Officially, on a Russian TV channel in Moscow, the leader stated his real goals. We already knew that before, but this is already an official statement. We hold meetings in the Trilateral Contact Group and set tasks on how to transform these uncontrolled regions into Ukraine, how to form local government, etc., whereas their tasks are completely different," Kravchuk said.
op