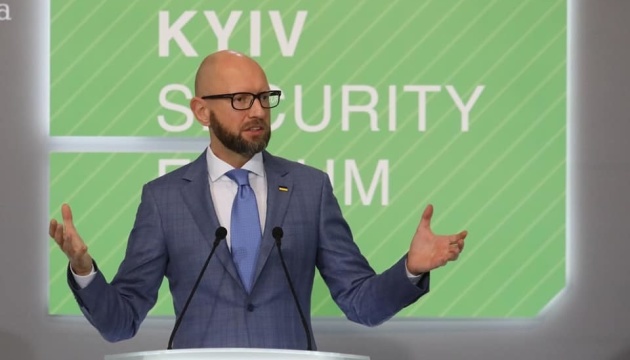 Ukraine can become NATO member with U.S. support - Yatsenyuk
Ukraine has a chance to become a member of NATO with the support of the new U.S. administration, according to former Ukrainian Prime Minister Arseniy Yatsenyuk.
"NATO membership is a historic mission that we can achieve. There is a chance to do this with the new U.S. administration. We lost this opportunity in 2008. Let's take the opportunity now to join NATO so that Ukraine gets a Membership Action Plan," he said during the online discussion "Ukraine and the United States: Plan for Strategic Partnership" as part of the Kyiv Security Forum on Wednesday, January 27.
Yatsenyuk expressed confidence that the new U.S. administration would support Ukraine, as it did during the Obama-Biden administration.
At the same time, the politician stressed that the restoration of Ukraine's territorial integrity and independence should be on the agenda of bilateral relations and expressed hope that the new U.S. administration would support economic reforms in Ukraine.
"We are convinced that the new administration will help the Ukrainian army become more powerful and provide it with lethal defensive weapons," he said.
Yatsenyuk said he was "very optimistic" about the future of bilateral relations. "The United States has passed the test of democracy. After all that happened, the United States has become even stronger. The United States has been, is, and will be a model of a true democracy. The stronger America, the stronger Ukraine, and vice versa," he said.
op