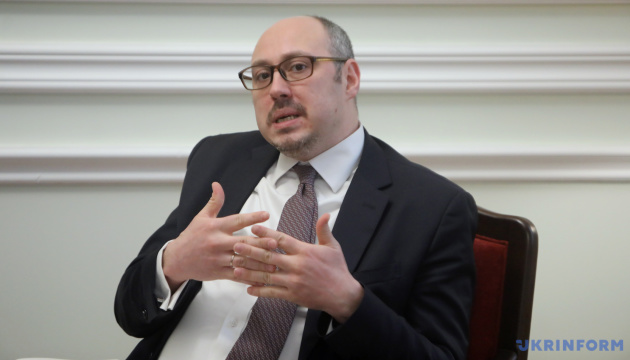 Ukrainian Foreign Ministry to complete digitalization of all consular services this year
The Ukrainian Foreign Ministry plans to complete in 2021the digitization of all consular services provided to foreign citizens and Ukrainians, Deputy Foreign Minister Dmytro Senik has said in an interview with Ukrinform.
The diplomat said that last year the Ukrainian Foreign Ministry completed the introduction of electronic document management within the system of diplomatic service bodies - with control, monitoring of implementation and operational exchange of information - and made significant progress in digitizing personnel data.
The second area of the digital transformation of the Ministry of Foreign Affairs is the digitalization of the ministry's services, primarily consular services.
"Everyone knows about electronic visas - this tool helps foreigners to obtain visas to enter Ukraine under a simplified procedure. But we want to expand the range of digital services for our compatriots. Currently, we are developing a special chatbot with partners with the subsequent introduction of elements of artificial intelligence, which will provide advice on consular issues to our citizens. That is, if citizens of Ukraine have any questions on this issue, they will be able to contact the chatbot via any popular messenger to get an answer. If the answer does not suit them, the chatbot will switch the applicant to the Ukrainian consul in the country where he or she stays," Senik said.
He also recalled that the Ukrainian Foreign Ministry had introduced an electronic queue in all diplomatic missions of Ukraine, which is currently being tested for improvement.
"[Ukrainian Foreign] Minister [Dmytro] Kuleba's task is to complete the digitization of all consular services within a year. We have our own digital tool - the DRUH [FRIEND] system (voluntary registration of Ukrainian citizens), which passed a crash test during the spring lockdown, when our citizens in many countries did not know who they could contact to get at least some advice or assistance on how to return to Ukraine. DRUH helped them a lot. We plan to integrate the DRUH system into the software product 'Diia,' which is being developed by the Ministry of Digital Transformation. It will be a so-called 'friend' in 'Diia' for our citizens abroad in addition to what we are doing in terms of digitalization of services," the diplomat said.
op