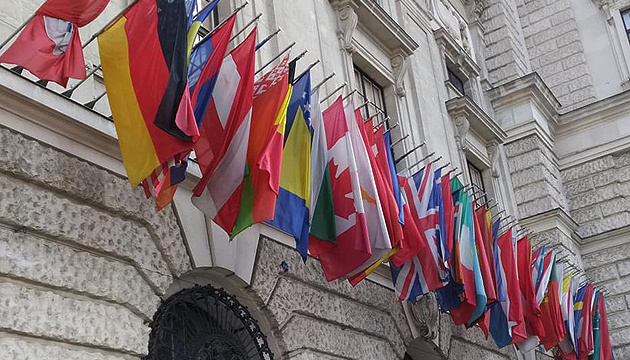 Ukraine at OSCE urges to put pressure on Russia over violations in Crimea
Ukraine calls on the OSCE participating states to condemn the political persecution of Ukrainians by the Russian occupation administration in Crimea.
"We call on the participating states to condemn Russia's political persecution of Ukrainian citizens and to step up political and diplomatic pressure on the aggressor state," Permanent Representative of Ukraine to International Organizations in Vienna Yevhenii Tsymbaliuk said at the OSCE Permanent Council meeting, an Ukrinform correspondent reports.
During the meeting, the Permanent Representative of Ukraine, in particular, drew the attention of foreign diplomats to one of the latest violations of international humanitarian law on the occupied peninsula – prison sentences given to three Crimean Tatars. Tsymbaliuk reminded that on January 12, the Southern Military District Court [in Rostov-on-Don, Russia] sentenced three Ukrainians to various terms in a maximum security colony: Enver Omerov was sentenced to 18 years, Ayder Dzhapparov to 17 years, Riza Omerov to 13 years.
"As it happened many times before, the pre-trial investigation and trial were conducted with numerous procedural violations, and the evidence presented by lawyers, proving the non-involvement of the defendants in the incriminated actions, was completely ignored," Tsymbaliuk said.
He also added that the day before, more than 100 Crimean Tatars, who tried to get to court and express support for the illegally accused, were illegally detained and held in the cold for almost 9 hours.
As reported, the Southern Military District Court in Rostov-on-Don (Russia) ruled on January 12 to sentence Enver Omerov to 18 years, Riza Omerov – 13 years, Ayder Dzhapparov – to 16 years in a maximum security penal colony.
All three men are residents of Bilohirsk district of Crimea and were detained on June 10, 2019. They were charged with "conducting terrorist activities" and participating in the activities of the Islamic organization Hizb ut-Tahrir.
ol