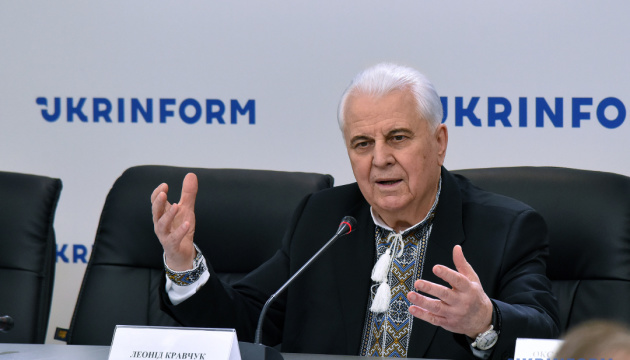 Kravchuk proposes drafting single document for Normandy format leaders - TCG
The head of the Ukrainian delegation to the Trilateral Contact Group (TCG), Leonid Kravchuk, has proposed developing a single document with the best proposals from political advisers for approval by the leaders of the Normandy Four countries.
According to Ukrinform, the press service of the Ukrainian delegation to the TCG announced this on Facebook following a meeting at the level of heads of delegations, held via videoconference.
"Kravchuk invited Ambassador [Pierre] Morel, Coordinator of the Political Subgroup of the TCG, to develop and present a single document, which will include the best proposals and approaches developed by political advisers. The development of a single document, which will be adopted by the leaders of the Normandy Format states, is the main guideline for the further work of the TCG," the statement reads.
According to Kravchuk, if the consultation process is approached from this position, the TCG will have every chance of moving to more constructive steps to implement the decisions taken under the set of agreements, starting from 2014.
According to the statement, during the videoconference, the other parties reminded the Russian side of a clear framework on the procedure for holding consultations. In particular, authorized representatives in the TCG are only those persons who were appointed by the heads of the parties to the conflict between Ukraine and Russia (Leonid Kravchuk and Boris Gryzlov), other members of the official delegations of both states and authorized representatives of the OSCE.
"All other people can participate only as consultants and experts on certain issues," the press service of the Ukrainian delegation said.
According to the statement, on January 20, OSCE Chairperson-in-Office, Swedish Foreign Minister Ann Linde visited the entry-exit checkpoint in Zolotye, where she noted Ukraine's work in the context of implementing the Normandy Four agreements and consultations in the Trilateral Contact Group. Linde welcomed Ukraine's desire to end the war and expressed support for Ukraine's sovereignty, independence and territorial integrity within its internationally recognized borders, including the Autonomous Republic of Crimea and the city of Sevastopol.
According to the statement, OSCE representatives said they did not know why the work of entry-exit checkpoints is still blocked by the armed formations of the Russian Federation and Russian-controlled occupation regimes.
"The Ukrainian delegation emphasizes that the Russian side has no formal reasons not to open the Shchastia and Zolote entry-exit checkpoints," the press service said.
Regarding the return of mutually held persons, the Ukrainian delegation to the TCG recalled that the head of the humanitarian subgroup, Ukrainian MP Halyna Tretiakova, at a meeting on January 19 once again suggested that Russia unblock the process of returning persons mutually held due to the conflict, which should not be stopped under any circumstances according to preliminary agreements.
op