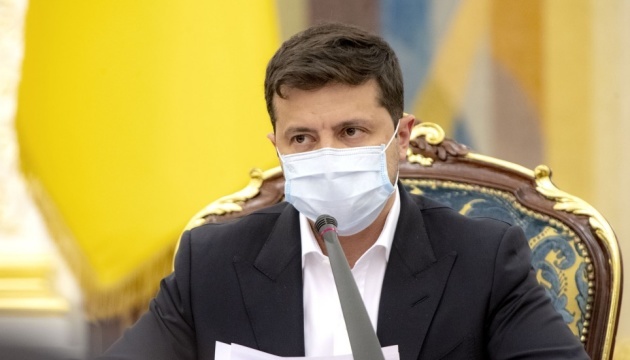 Zelensky holds meeting on priority issues for Ukrainian authorities in 2021
Ukrainian President Volodymyr Zelensky has held a meeting on priority issues put on the agenda of the Ukrainian authorities in 2021, the presidential press service has reported.
The meeting was attended by Prime Minister Denys Shmyhal, Verkhovna Rada Chairman Dmytro Razumkov, MPs and heads of parliamentary committees, Head of the President's Office Andriy Yermak, his deputies, and advisers.
"Among other things, [participants in the meeting] discussed changes in the country that are taking place in connection with the pandemic. They emphasized the importance of voting on priority laws aimed at implementing reforms that will promote macroeconomic growth," the statement said.
According to the statement, the meeting participants focused on support for businesses and the population. Much of the meeting concerned the economy. The meeting participants noted that economic growth is expected in 2021 and a number of steps and initiatives are to be taken to bring domestic legislation into line with European legislation, as Ukraine plans to revise the provisions of the Association Agreement with the EU.
"Cooperation with international partners has become an important focus," the statement said.
Shmyhal said that the government was working on the implementation of the president's initiative on mortgage loans for young people at 7%.
There are also plans to introduce nominal scholarships for students and special awards.
"When we participated in the elections, we promised to simplify the conditions for doing business, to provide affordable loans and mortgages to young families, and to increase material security. Of course, the coronavirus pandemic has made its adjustments and posed new and unexpected challenges that needed to be addressed immediately. But we must not forget our promises and what people expect of us. This year, we must continue to move towards the implementation of our program provisions to build a successful country of happy people," Zelensky said.
op