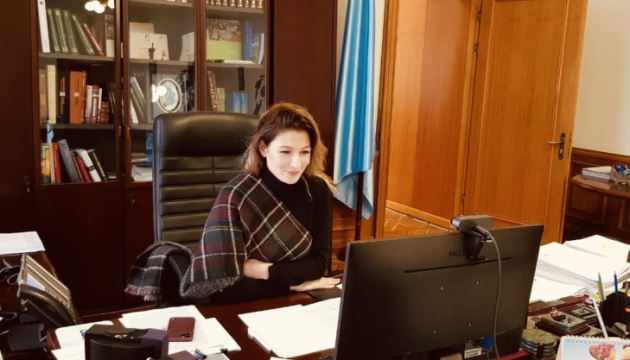 Dzheppar: Crimean Platform summit should not be limited to human rights issues
The Crimean Platform summit, scheduled for August 23 in Ukraine, should raise the full range of issues concerning the occupied Crimea, from the humanitarian aspect to the security sector.
"The short-term task of the Crimean Platform is to keep the topic of Crimea [on the agenda], to find new ways and steps to start discussing even more actively the topic, which has not changed in seven years, and the consequences of the occupation have only become more intense," First Deputy Minister of Foreign Affairs of Ukraine Emine Dzheppar said at a joint online hearing in the Verkhovna Rada entitled "Foreign policy aspects of de-occupation of the Autonomous Republic of Crimea and the city of Sevastopol: parliamentary dimension" on January 20, an Ukrinform correspondent reported.
She stressed that the summit should not be limited to discussing an important human rights topic.
"Human rights are not the only dimension we can talk about. From the point of view of the Ministry of Foreign Affairs, Ukraine must look for arguments on militarization and security issues. There are many of them, and measures must be planned proceeding from our strategic goals," Dzheppar said.
She called the date of the Crimean Platform summit symbolic.
"The Crimean Platform summit will be held in Kyiv on August 23 this year along with the events planned for the 30th anniversary of Ukraine's independence ... Symbolism cannot be overestimated as there is no truly independent Ukraine without Crimea," the first deputy foreign minister stressed.
As noted, the invitations for foreign leaders and heads of international organizations to attend the Crimean Platform summit will be sent soon.
As reported, the Crimean Platform is a new consultative and coordination format initiated by Ukraine to improve the efficiency of the international response to the occupation of Crimea, respond to growing security challenges, step up international pressure on Russia, prevent further human rights violations, protect victims of the occupying power and to achieve the de-occupation of Crimea and its return to Ukraine.
The Crimean Platform is expected to operate at the level of heads of state and government, foreign ministers, in the dimension of inter-parliamentary cooperation and expert network.
оl