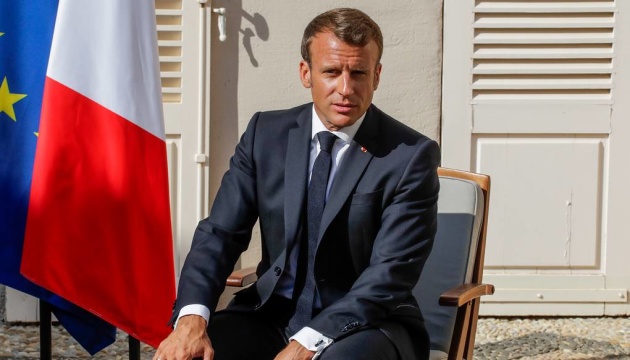 Ambassador: Macron's visit to Ukraine being prepared
Ukrainian diplomats are preparing the visit of President of France Emmanuel Macron to Ukraine.
"Indeed, Macron's visit to Ukraine is planned. We work [to prepare it] every day: primarily, to prepare significant content of the agenda of this visit," Ambassador Extraordinary and Plenipotentiary of Ukraine to France Vadym Omelchenko said during the online conference "Seven years after Maidan" organized on January 18 by the Eastern Circles geopolitics club and the Ukraine Crisis Media Center, an Ukrinform correspondent reported.
He stressed that the last meeting of the Ukraine-France Joint Commission had 17 issues on the agenda and their number continues to grow.
"We hope that several important large-scale contracts will be signed during the French president's visit to Ukraine," the ambassador added.
In particular, he mentioned a large contract between the Government of Ukraine and Alstom for the supply of electric locomotives. The agreement will provide for the localization of production in Ukraine.
In addition, the ambassador hoped that a contract to expand cooperation with Alstom on the construction of high-speed railways between Kyiv, Lviv and Odesa could be signed.
The ambassador also informed that Ukraine and France plan to agree on the construction of drinking water stations.
Omelchenko expressed his conviction that Ukraine is a modern technological state.
"Despite the conflict in Donbas, the occupation, Ukraine has made a real leap in technological development and is moving forward very quickly," the diplomat added.
ol