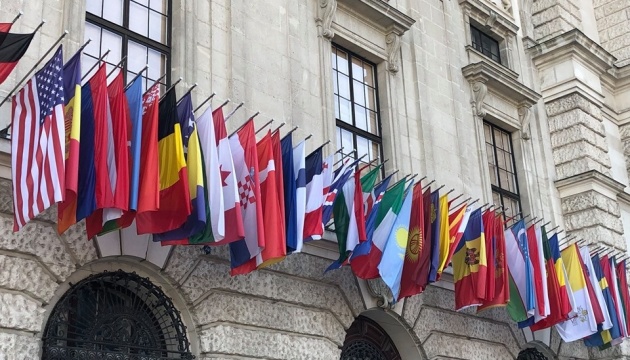 Ukraine at OSCE: Occupied Crimea and parts of Donbas turn into 'territory of lawlessness'
Ukraine calls on Sweden's OSCE Chair to pay special attention to human rights violations in Crimea and the occupied areas of Donbas, which have turned into a "territory of lawlessness."
Ambassador Yevhenii Tsymbaliuk, Permanent Representative of Ukraine to the International Organizations in Vienna, made a corresponding statement at the OSCE Permanent Council meeting on January 14.
"Every week, in the meetings of the Permanent Council, we inform participating States on the ongoing abuses of human rights and fundamental freedoms by aggressor state in Crimea and parts of Donbas. These areas were transformed into a territory of lawlessness, including forced imposition of Russian citizenship, violence, torture, persecutions, humiliation of human dignity and illegal detention of political prisoners," Tsymbaliuk said in response to presentation of Sweden's priorities in the OSCE for 2021.
Ambassador Tsymbaliuk drew attention to the severe economic, social and environmental hardships, faced by Ukrainian citizens forced to live under Russia's temporary occupation.
"The number of IDPs in Ukraine, the number of those who directly suffered from the armed hostilities brought by the Russian aggression, and the number of Russian citizens illegally transferred to the occupied parts of Ukraine, runs into the hundreds of thousands," he said.
Ukraine's Permanent Representative stressed that the scale and multifaceted character of these security challenges "requires the full involvement of the OSCE and its structures under the guidance and leadership of the Swedish Chairpersonship."
"Defending European security order, one of your top three priorities, definitely starts with Ukraine, the territorial integrity and sovereignty of which was flagrantly violated seven years ago by the Russian Federation. The temporary occupation and attempted annexation of parts of Ukraine's territory remain the most severe challenge to the security architecture in Europe," Tsymbaliuk said, addressing OSCE Chairperson-in-Office, Minister for Foreign Affairs of Sweden Ann Linde.
As reported, Sweden took over the OSCE Chair on January 1.
ol