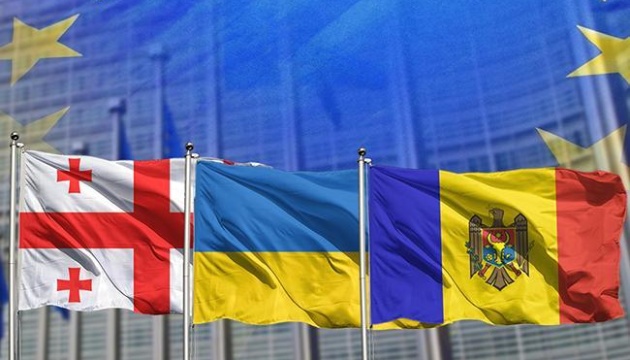 Kuleba: Ukraine, Georgia and Moldova speak with one voice to EU
Speaking at a video meeting of foreign ministers of Ukraine, Georgia and Moldova in the format of the "Trio of EU Associated Partners", Ukraine's Foreign Minister Dmytro Kuleba stated that Ukraine, Georgia and Moldova are the European Union's most ambitious eastern partners.
The meeting participants, in particular, pointed out the unity of the three EU associated countries in the vision of the strategic future of the Eastern Partnership and the existence of many areas of common interest in the context of the European integration of Ukraine, Georgia and Moldova, the press service of the Ministry of Foreign Affairs of Ukraine informs.
"It is important that our three countries speak to the European Union with one voice which is much stronger than every single voice. The Eastern Partnership should be a tool that contributes to the fulfilment of European aspirations of our countries, the associated trio of EU's most ambitious eastern partners," Dmytro Kuleba stressed. The foreign ministers reaffirmed their commitment to work together to develop an in-depth dialogue initiative in the EU+ Associated Partners format based on the principle of differentiation, in particular in the areas of deep and comprehensive free trade areas and sectoral rapprochement with the EU.
The ministers agreed that integration into the European Single Market and the prospect of spreading the "four European freedoms" to the concerned and prepared partner countries should become ambitious strategic goals within the framework of the Eastern Partnership.
The foreign ministers of Ukraine, Georgia and Moldova underscored the importance of developing a security dimension of cooperation within the Eastern Partnership, given the existing threats and challenges to the sovereignty and territorial integrity of the eastern partners.
The Eastern Partnership is an EU initiative that continues the eastern direction of the European Neighborhood Policy, which was launched in 2009. It includes Ukraine, Georgia, Moldova, Armenia, Azerbaijan and Belarus. The decision to hold the Sixth Summit of the EU's Eastern Partnership initiative in 2021 was made following a video conference of Eastern Partnership leaders in June 2020.
ol