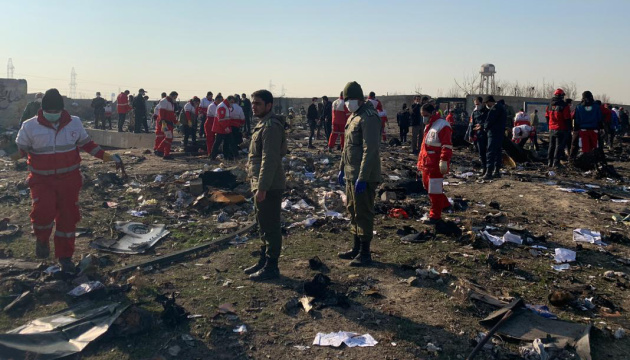 Five countries make statement marking one year since UIA plane crash in Iran
Ukraine, Afghanistan, the United Kingdom, Canada and Sweden have called on Iran to urgently provide a full and comprehensive explanation of the events and decisions that led to the UIA plane crash near Tehran a year ago.
This is said in a statement by the five countries on the first anniversary of the tragic downing of Ukraine International Airlines Flight PS752, Ukrinform reports with reference to the press service of the Ukrainian Foreign Ministry.
"Today we honour the memory of those who perished and offer our sincere condolences to all who mourn the victims of the PS752 tragedy. We share the grief of the families, relatives and friends who lost loved ones. We urgently call on Iran to provide a complete and thorough explanation of the events and decisions that led to this appalling plane crash, including concrete measures to ensure that it will never happen again," the report reads.
The statement emphasized that the five countries "will hold Iran to account to deliver justice and make sure Iran makes full reparations to the families of the victims and affected countries."
January 8, 2021 marks one year since a Ukraine International Airlines (UIA) plane was shot down in the sky over Iran.
Ukraine International Airlines plane (Flight PS752) heading from Tehran to Kyiv crashed shortly after taking off from the Imam Khomeini International Airport at about 06:00 Tehran time (04:30 Kyiv time) on January 8, 2020. There were 176 people on board – nine crew members (all Ukrainians) and 167 passengers (citizens of Ukraine, Iran, Canada, Sweden, Afghanistan, Germany, and the UK).
On January 11, Iran admitted that its military had accidentally shot down the Ukrainian passenger jet. Iran's Islamic Revolutionary Guard Corps (IRGC) accepted full responsibility for the downing of the Ukrainian airliner.
On December 29, Ukrainian President Volodymyr Zelensky awarded the flight PS752 crewmembers the titles of Hero of Ukraine with the Order of the Golden Star.
On January 5, 2021, Ukrainian Foreign Minister Dmytro Kuleba said that Ukraine had received from Iran a draft technical report on the circumstances of the crash of Ukraine International Airlines flight PS752, which occurred near Tehran on January 8, 2020.
ish