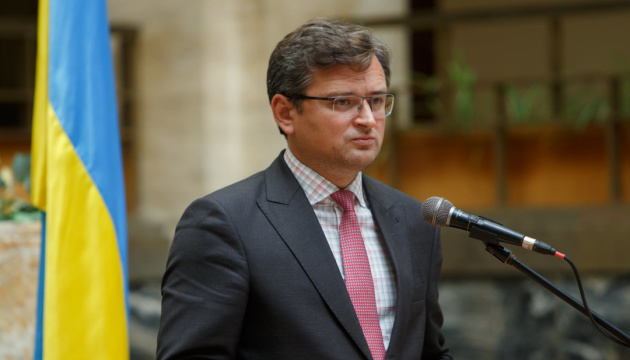 FM Kuleba: Peaceful coexistence is short-term goal of relations with Russia
Minister of Foreign Affairs of Ukraine Dmytro Kuleba believes that the principle of peaceful coexistence should be the short-term goal of Ukraine's relations with the Russian Federation.
"In my opinion, the short-term goal of our relations with the Russian Federation is to reach the principle of peaceful coexistence. Now there is a war between Russia and Ukraine. It's a fact. We must stop the war, restore peace in Ukraine, restore our territorial integrity," Kuleba said during an online briefing, an Ukrinform correspondent reports.
At the same time, the minister stressed that even if this goal is achieved, Russia will not change and Russia's strategic goals concerning Ukraine will remain unchanged. Such goals, he said, are "destructive forces."
"Therefore, the principle of peaceful coexistence would be in Ukraine's interests. Then, with a change in policy, I'm already talking about a long-term goal, when Russia realizes the inevitability of Ukraine's independence, Ukraine's sovereignty, Ukraine's existence as part of the Western world and NATO and EU member, we could proceed to the principle of coexistence, that is, when we will simply tolerate each other and look forward to new opportunities," Kuleba added.
After that, in his opinion, it will be possible to consider further opportunities for relations with Russia.
The minister reminded that it is impossible to escape from geography and added that it is very difficult to raise the issue of cooperation with Russia in a broader context but Ukraine needs a serious, substantive, calm conversation about Russia.
ol