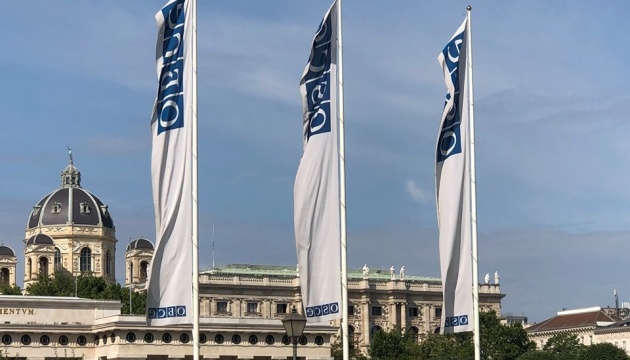 Ukraine at OSCE urges to hold Russia liable for selling Masandra winery to Putin's friend
The sale of the Ukrainian Masandra winery by the Russian occupation administration in Crimea is void, and Russia must be held accountable for this.
"On 14 December, the Russian occupation administration in the temporarily occupied Autonomous Republic of Crimea illegally sold for peanuts the Ukrainian Masandra Concern to a subsidiary company of Rossiya Bank, controlled by Mr. Yury Kovalchuk, one of the friends of President Putin. The seizure by Russia of Ukrainian enterprises in the occupied parts of Ukraine is legally void. Russia must be held accountable," the delegation of Ukraine said at the OSCE Permanent Council meeting on December 17.
The Ukrainian delegation once again called on the Russian Federation to stop the illegal occupation of Crimea, the militarization of the Azov-Black Sea region and aggression against Ukraine, including by withdrawing its armed forces, mercenaries and equipment from the temporarily occupied territory of Ukraine.
As reported, the occupation authorities of Crimea illegally sold Ukrainian Masandra winery to Russia's LLC Yuzhny Proekt, 99.9% of shares in which belong to the Joint-Stock Bank Rossiya. The main shareholder and former chairman of the board of directors of the Bank Rossiya is Yury Kovalchuk, named "cashier" of Russian President Vladimir Putin by the media.
The so-called "privatization" of the Concern, which, in addition to significant production assets, has a unique collection of wines and winemaking traditions, was conducted at a price slightly higher than the starting one.
The Ministry of Foreign Affairs of Ukraine called the sale of the Crimean Masandra winery null and void. The Ministry reminded that Masandra belongs to the Ministry of Agrarian Policy and Food of Ukraine. The so-called "nationalization" of Masandra winery by the occupation administration of Crimea took place in 2014.
Ukraine intends to initiate the imposition of new international sanctions on Russia and to file lawsuits at international courts over the misappropriation and sale of the Ukrainian Masandra winery in the occupied Crimea. Ukraine will also impose national sanctions.
ol