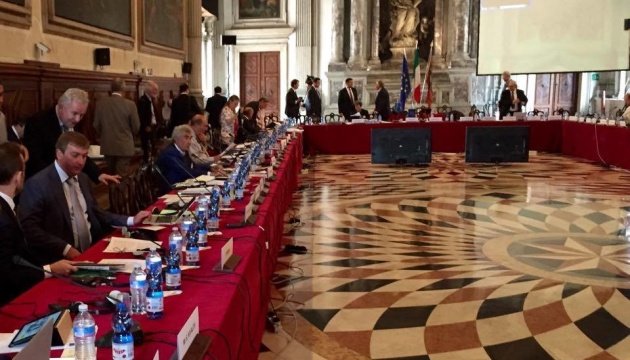 Verification of judges' e-declarations not contradicting international standards - Venice Commission
Verification of judges' asset declarations is a common international practice and should be regulated by national law, the Venice Commission has said in its response to the request of Ukrainian President Volodymyr Zelensky regarding the powers of anti-corruption bodies.
"Therefore, whether or not to create a special legal mechanism of verification of declaration of judges is not dictated by international standards, and the previous model – where declarations of judges and other public officials are verified by the same body – is more widespread in the region. That means that the choice of the most appropriate model belongs to the national legislature," the Venice Commission said.
At the same time, commission members stated that the Constitution of Ukraine does not specify which body should verify the asset declarations of public officials.
The opinion states that the Constitutional Court, in its decision of October 27, 2020, claimed that the mechanism of verification of financial declarations by the National Agency on Corruption Prevention (NACP) may be abused to put pressure on the judges.
"This argument, however, does not lead to the necessity of terminating the currently existing mechanism of verification of declarations, rather to the necessity of ensuring that there are appropriate guarantees against abuse," experts said.
Possible ways to reform the mechanism for verifying the financial declarations of judges could be the granting of such powers to the High Qualification Commission of Judges (HQCJ).
On October 27, the Constitutional Court repealed Article 366-1 of the Criminal Code on penalties for lies in asset declarations and some provisions of the law "On Corruption Prevention." In particular, the Constitutional Court declared unconstitutional the powers of the National Agency on Corruption Prevention (NACP) to verify officials' asset declarations, monitor the lifestyle of those who submit asset declarations, establish the timeliness of submission of asset declarations, as well as provisions on open access to declarations in the single state register.
In this regard, President Volodymyr Zelensky held a meeting of the National Security and Defense Council on October 29 to determine measures for the state's immediate response to new threats and challenges to national security and defense. The decision was made at the meeting to reopen public access to the unified state register of asset declarations and ensure the holding of special verifications by the NACP.
On November 17, Deputy Speaker of the Verkhovna Rada Olena Kondratiuk signed an order on the establishment of a working group on legislative support for effective activities in the field of corruption prevention and improvement of legislative regulation of certain aspects of the Constitutional Court's work. Verkhovna Rada Chairman Dmytro Razumkov proposed creating such a working group.
op