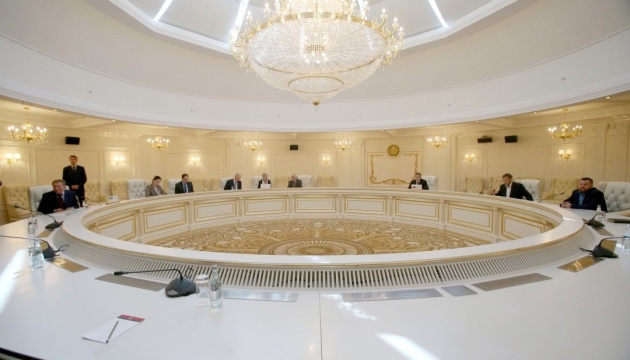 Delegation to TCG: Ukraine ready to continue implementing Normandy format agreements
Implementation of the agreements reached by the Normandy format leaders as well as the entire package of Minsk agreements remains for Ukraine the basis for political and diplomatic settlement of the Russia-Ukraine armed conflict and restoration of peace in Donbas.
The corresponding statement was made by the Ukrainian delegation to the Trilateral Contact Group on the occasion of the anniversary of the Normandy format summit in Paris.
"Over the past year, the Ukrainian delegation has made active efforts to fulfill the tasks set by the President of Ukraine on the path toward peaceful settlement of the conflict in Donbas," the statement reads.
In particular, the security situation in the conflict zone has stabilized due to the intensification of the TCG activities and the adoption of additional measures to strengthen the ceasefire in July 2020. In December 2019 and April 2020, mutual detainee exchanges were held. In addition, the Ukrainian side has put forward important initiatives for further disengagement of troops and hardware and continuation of mine action process.
"Ukraine reaffirms its readiness to continue working within the framework of the Normandy Format to implement the agreements reached by the leaders of the four countries… We call on the Russian Federation to take all appropriate steps to continue the work of mentioned formats to implement all decisions taken at the level of the leaders of the four countries, as well as to take real steps to resolve the armed conflict basing on norms and principles of international law, respect for Ukraine's sovereignty and territorial integrity," Ukraine's delegation to TCG noted.
The Ukrainian side thanked Germany and France, as well as the OSCE, for their active mediation in the conflict settlement and efforts to establish peace in Ukraine and restore Ukraine's sovereignty and territorial integrity within its internationally recognized borders.
As reported, the summit of leaders of the Normandy format countries - Ukraine, France, Germany and Russia - took place in Paris on December 9, 2019.
In particular, the parties reached agreements on all-for-all prisoner swap, establishment of ceasefire and partial disengagement of forces, support for creation of new crossing points along the contact line, creation of new disengagement areas.
ol