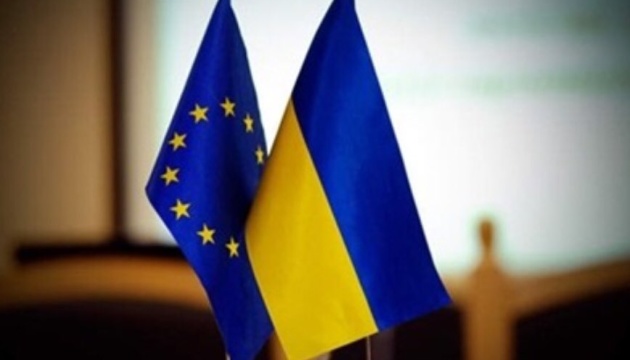 Ukraine, EU agree to hold Association Council meeting on February 11
Ukraine and the European Union agreed to hold the Association Council meeting on February 11, 2021.
The agreement was reached at the online meeting of Prime Minister of Ukraine Denys Shmyhal with Josep Borrell, High Representative of the European Union for Foreign Affairs and Security Policy, Vice-President of the European Commission, and EU Commissioner for Neighborhood and Enlargement Olivér Várhelyi, the Government portal informs.
"The parties agreed to hold a regular meeting of the Association Council in Brussels on February 11, 2021," reads the statement.
The Prime Minister stressed that practical cooperation with the EU is of utmost importance for Ukraine in the issue of ensuring Ukraine's further access to COVID-19 vaccine.
Denys Shmyhal also thanked the European Union for its readiness to prolong the active dialogue on the implementation of the European Green Deal.
The Prime Minister offered to consider the possibility of establishing a dialogue between Ukrainian and European companies and associations to accelerate mutual integration into production and supply chains.
The Head of Government accentuated that Ukraine exerts every effort to implement the objectives of the Association Agreement with the EU.
"We continue to carry out systemic reforms and deep transformations. European integration is the basis of the Government's action plan, while the execution of the Association Agreement is our roadmap for reforms," Shmyhal said.
The Prime Minister expressed hope that the participants of the 7th meeting of the Association Council would discuss the priority areas of cooperation and spheres of common interest for the implementation of the Association Agreement as well as the achievement of its goals.
"I expect the forthcoming meeting will ensure progress in the further development of Ukraine's political association and economic integration with the EU, as will be reflected in the final documents," Denys Shmyhal stressed.
The Prime Minister noted that Ukraine expects that during the Association Council's meeting the parties would agree on joint steps aimed at the practical implementation of the agreements of the EU-Ukraine Summit, many of which, according to him, are quite ambitious and comprehensive.
"Our special interest concerns the beginning of a review of the achievement of the objectives of the Association Agreement. We are also interested in updating the parameters of the Deep and Comprehensive Free Trade Area, which would allow for further development of trade and strengthening of sectoral provisions of the Agreement," said the Prime Minister.
The parties also agreed to make efforts to sign the Common Aviation Area Agreement during the 7th meeting of the Association Council.
On December 4, the Office of Ukraine's Vice Prime Minister for European Integration Olha Stefanishyna confirmed the postponement of the 7th meeting of the EU-Ukraine Association Council scheduled for December 8 due to strict lockdown measures in Brussels.
ol