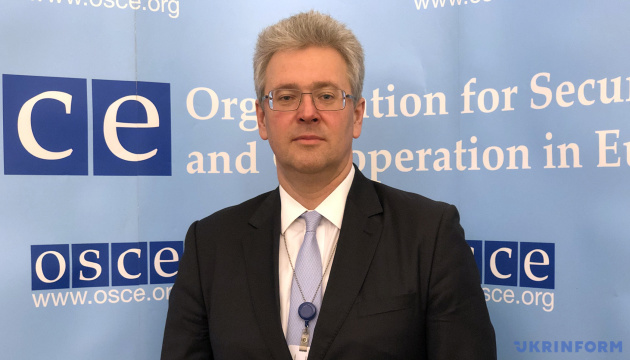 Ukraine calls on OSCE PA to seek implementation of its resolutions on Crimea and Donbas
Ukraine calls on the OSCE Parliamentary Assembly to put the issue of Russia's aggression against Ukraine high on its agenda in 2021.
Ambassador Yevhenii Tsymbaliuk, Permanent Representative of Ukraine to the International Organizations in Vienna, made a corresponding statement at the OSCE Permanent Council meeting in Vienna on November 26.
"We wish to stress that the crisis in the European security triggered by Russia's military aggression against Ukraine and its consequences must remain in the focus of the OSCE PA," Tsymbaliuk said in response to the address by President of the OSCE Parliamentary Assembly, Mr. George Tsereteli.
Ukraine's Permanent Representative noted that the OSCE Parliamentary Assembly had repeatedly condemned those violations and called upon the Russian Federation to stop aggression against Ukraine in its numerous declarations and resolutions, adopted annually since 2014, on the violations of the Helsinki Principles by the Russian Federation, the abducted and illegally detained Ukrainian citizens in the Russian Federation, the violations of human rights and fundamental freedoms in Ukraine's Autonomous Republic of Crimea and the city of Sevastopol, as well as increasing militarization of the occupied Crimea, the Sea of Azov and the Black Sea.
These documents, which Russia continues to blatantly disregard, underline the need to keep unity, firmness and persistence in responding to Russia's aggression and ensuring that the fundamental principles of this Organization are not compromised, Tsymbaliuk added.
"We call on the Assembly to continue to be persistent in its efforts and to put high on its agenda in 2021 the issue of prompt and full implementation of the Assembly's resolutions to contribute to the peaceful resolution of the Russian-Ukrainian conflict with full respect to the norms of international law, which provide for the sovereignty, political independence, unity and territorial integrity of Ukraine within its internationally recognized borders," Ukraine's Permanent Representative to the International Organizations in Vienna said.
ol