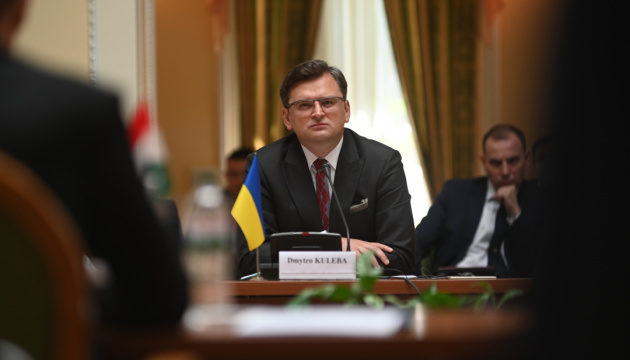 Kuleba: It's time to open new page of cooperation between Ukraine and Brazil
Ukrainian Foreign Minister Dmytro Kuleba held a video conferencing meeting with Brazilian Foreign Minister Ernesto Araújo on November 18, the Foreign Ministry's press service reports.
Kuleba called for the intensification of Ukrainian-Brazilian relations. "It is time to open a new page in our relations. Ukraine and Brazil have long-standing historical ties based on friendship and respect. Ukraine seeks to fully realize the numerous possibilities for the development of Ukrainian-Brazilian relations in the fields of trade, investment, education, culture and innovation," he said.
The ministers noted the importance of a visit of the President of Brazil to Ukraine next year and agreed on active cooperation for meaningful preparation for the visit.
According to Kuleba, Ukraine is especially interested in increasing the volume of bilateral trade. "Brazil remains Ukraine's largest trading partner in South America. At the same time, the range of exports and imports can be significantly expanded," he said.
The minister suggested holding a Ukrainian-Brazilian business forum in the near future for the mutual presentation of trade and investment opportunities and the further establishment of direct contacts between businesses.
Kuleba also informed the interlocutor about the situation in the temporarily occupied territories of Ukraine and Ukraine's initiative to create the Crimean Platform — the basis for coordinating international efforts to de-occupy Crimea and countering gross violations of human rights in the temporarily occupied Crimea.
The fight against disinformation was a separate topic of conversation. The Ukrainian minister spoke about the initiative of the President of Ukraine to open the headquarters of an international office in Kyiv, which will deal with the issues of countering disinformation and fake news.
Kuleba emphasized the invaluable contribution of the Ukrainian community in Brazil to the development of Ukrainian-Brazilian relations.
The interlocutors agreed to hold a number of events next year to mark the 130th anniversary of Ukrainian immigration to Brazil.
ish