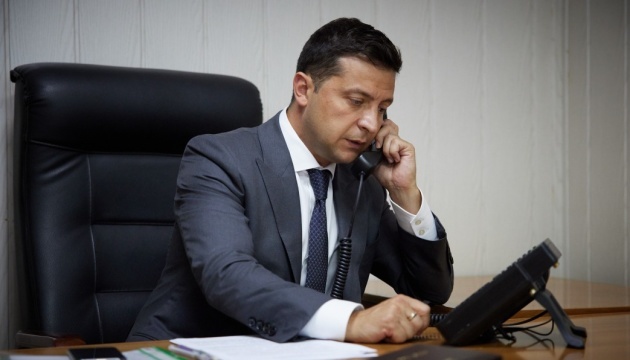 Zelensky, Macron discuss situation in Donbas, Constitutional Court's decision
President of Ukraine Volodymyr Zelensky and President of the French Republic Emmanuel Macron have agreed that a meeting in the Normandy format should be held as soon as possible.
This issue was discussed during a phone call between Zelensky and Macron, the Ukrainian president's press service reported on Thursday evening.
During the talk, President Zelensky expressed condolences to Emmanuel Macron and the French people over the recent tragic events and the deaths of French citizens during the terrorist attacks.
The presidents also discussed the fight against the COVID-19 pandemic and the need for uniting forces to overcome this large-scale challenge.
"I want to reaffirm my support for your initiative to establish the production of strategic medical products and equipment in Europe. We are ready to provide all possible support in establishing such production with the participation of Ukrainian companies - manufacturers of protective masks, gowns and disinfectants," Zelensky said.
The presidents also focused on the implementation of the Paris Summit agreements. Zelensky said that since July 27 this year, when a package of additional measures was introduced to consolidate the ceasefire regime, the longest ceasefire since the beginning of the war in Donbas has been maintained.
The Ukrainian president said that despite several mutual releases of detainees and progress in the area of hostilities, many agreements of the leaders of the Normandy Four are still not fulfilled - such as access of the International Committee of the Red Cross and OSCE to the temporarily occupied territory.
Macron agreed with Zelensky that the leaders of the Normandy format countries should hold talks as soon as possible. He also praised Zelensky's peace initiatives and Ukraine's efforts on demining and disengagement of troops in Donbas. The French President assured that Ukraine could count on his determination to help end the war.
In turn, Zelensky stressed that Ukraine strictly fulfills the agreements of the Paris Summit and is ready to open two checkpoints on the delimitation line in the coming days.
The parties also discussed the situation with the decisions of the Constitutional Court of Ukraine. Macron stressed that he considers the reforms carried out by Ukraine important, in particular in the banking sector. He noted that some of these reforms require determination and wisdom.
iy