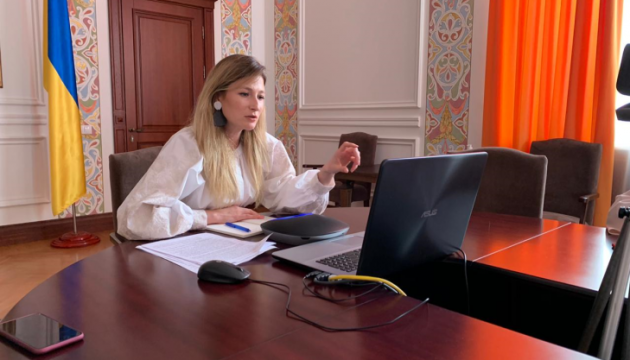 Dzheppar in NY calls on intl community to strengthen protection of human rights in occupied Crimea
First Deputy Foreign Minister of Ukraine Emine Dzheppar has called on the international community to strengthen joint efforts to protect human rights in the Russian-occupied Crimea.
Dzheppar said this at a side-event on the human rights situation in the temporarily occupied Autonomous Republic of Crimea and the city of Sevastopol, which took place on the sidelines of the 75th session of the UN General Assembly in New York, Ukrinform reports with reference to the press service of the Ukrainian Foreign Ministry.
"The Russian occupation authorities have turned Crimea into a peninsula of fear, where repressions against Ukrainian citizens who oppose the occupation continue to take place. The Occupying Power continues the policy of illegal detention of Ukrainians and Crimean Tatars in order to further transfer them as hostages to Russian jails," Dzheppar stressed.
In this context, she recalled that on November 3, Russia's South District Military Court unlawfully sentenced three citizens of Ukraine to imprisonment in another so-called "Hizb ut-Tahrir" case. "We will not leave our citizens and will do everything possible for their return to Ukraine," the diplomat promised.
The first deputy minister expressed her conviction that the transfer of the Russian population to the territory of the occupied Crimea is illegal under international humanitarian law.
According to Dzheppar, deprivation of the right to land, religion, education and language, forced change of citizenship, conscription into the Russian army, ban on the activities of the Crimean Tatar Mejlis, and persecution of the Ukrainian Orthodox Church in Crimea – all these violations of human rights and international humanitarian law will receive a proper assessment from the United Nations.
The participants of the event noted the importance of two reports by the UN Secretary-General on the human rights situation in Crimea, which contained facts of large-scale attacks on human rights on the temporarily occupied peninsula and Russia's failure to comply with its obligations under the international law.
"Therefore, it is important to continue monitoring this issue by the Secretary-General, which, in particular, is one of the key elements of the updated draft resolution of the UN General Assembly on the human rights situation in the temporarily occupied Crimea, which will be considered by the UN General Assembly in November-December this year," Dzheppar said.