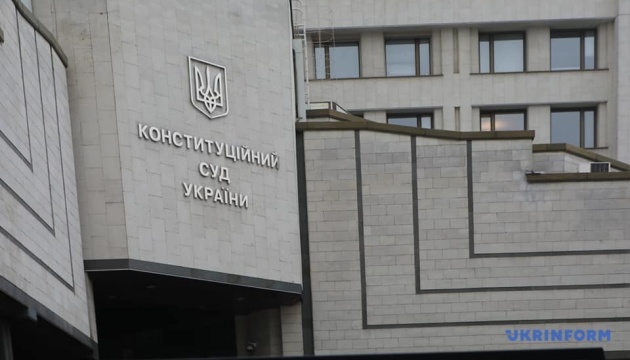 MPs call for resignation of judges who supported decision on asset declarations
MPs from various factions in Ukraine's parliament have called on judges of the Constitutional Court, who supported the decision to repeal Article 366-1 of the Criminal Code of Ukraine on penalties for false asset declarations and certain provisions of the law "On Corruption Prevention," to resign.
A group of people's deputies said this in a statement that was read out by Servant of the People MP Oleksandr Bakumov from the rostrum of the Verkhovna Rada on Tuesday, November 3.
"People's deputies of Ukraine who signed this statement […] call on the Constitutional Court of Ukraine to take all the necessary measures to restore the effectiveness of its functioning, taking into account the European and Euro-Atlantic courses chosen by the Ukrainian state. [MPs] call on judges of the Constitutional Court of Ukraine who supported the decision of the Constitutional Court of Ukraine of October 27, 2020 - Oleksandr Mykolaiovych Tupytskyi, Viktor Valentynovych Horodovenko, Iryna Mykolaivna Zavhorodnia, Oleksandr Volodymyrovych Kasminin, Viktor Vasyliovych Kryvenko, Oleksandr Mykolaiovych Lytvynov, Volodymyr Romanovych Moisyk, Serhiy Volodymyrovych Sas, Ihor Dmytrovych Slidenko, Petro Todosiovych Filiuk, Halyna Valentynivna Yurovska - to abdicate their duties as judges of the Constitutional Court of Ukraine at their own request or to resign immediately," Bakumov said.
The statement also notes that the Constitutional Court ruling to cancel anti-corruption reform "has far-reaching consequences for Ukraine's entire anti-corruption infrastructure and calls into question a number of Ukraine's international obligations."
During Bakumov's speech, several dozen deputies gathered near the parliament's rostrum and signed the statement.
op