Dmytro Razumkov, Chairman of the Verkhovna Rada
Vertical of fight against corruption formed; its functions should be performed efficiently
03.11.2020 14:14
The visit by a Ukrainian parliamentary delegation, headed by Verkhovna Rada Chairman Dmytro Razumkov, to Berlin took place in a situation when Germany faced internal political battles over the issue of lockdown. It is not ruled out that the Ukrainian visit closed the season of high-level political visits to Germany this year. However, this did not prevent the Ukrainian delegation from holding meaningful talks with German politicians - Bundestag President Wolfgang Schaeuble, deputies from various factions, foreign and defense ministers.
Razumkov told Ukrinform in an interview about what issues were put on the agenda of the first visit by Ukraine's parliament speaker to Germany in the past five years.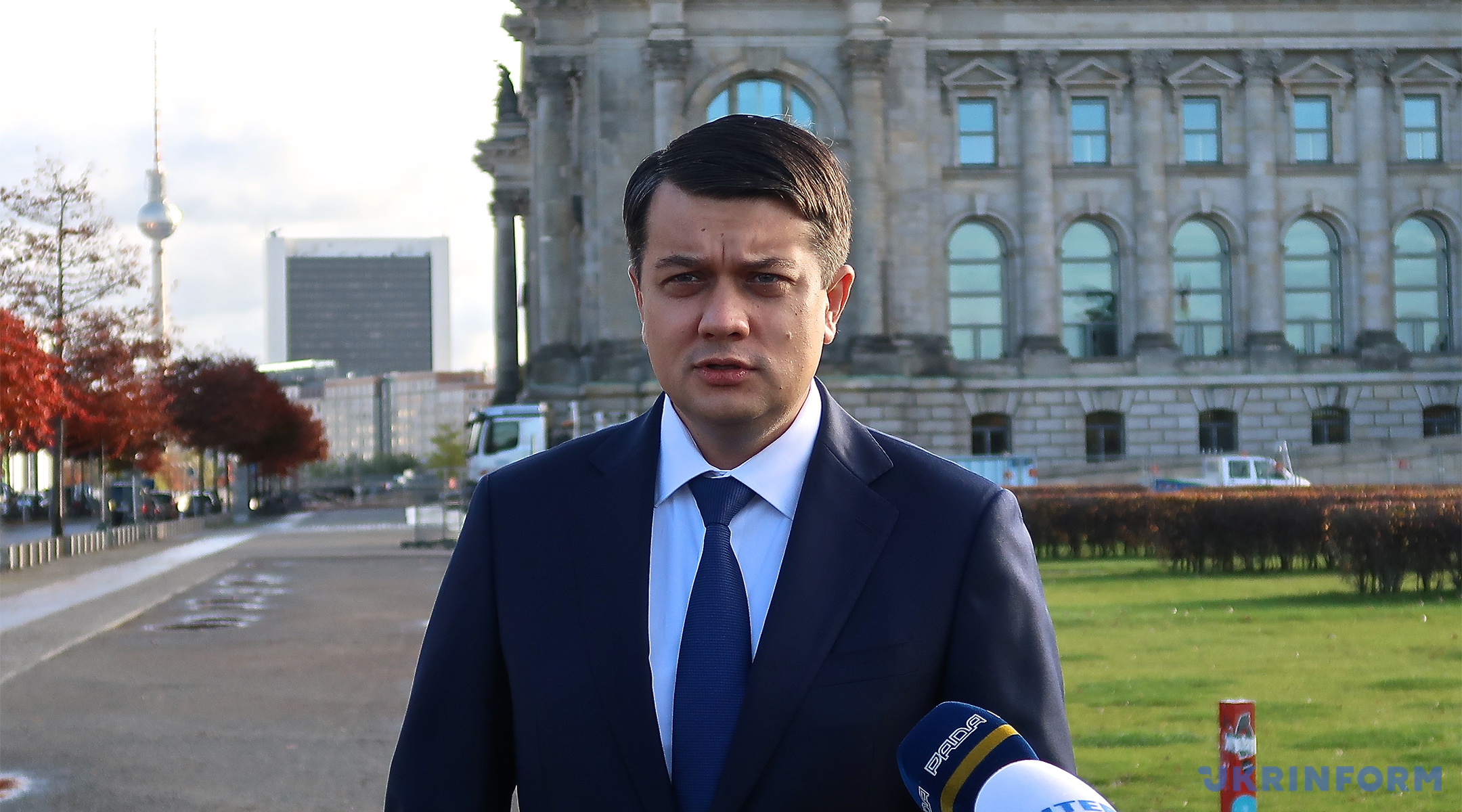 UKRAINE COMMUNICATES ITS POSITION ON NORD STREAM 2
Question: The COVID-19 pandemic, of course, becomes one of the topics of negotiations. Have you talked to your German partners about cooperation in overcoming the pandemic, about possible assistance from Germany, including in the supply of vaccines?
Answer: Yes, we talked about access to vaccines when they appear, about Ukraine's inclusion in the priority list of the states that will receive them. This issue was raised at several meetings.
Question: Commenting on the results of your visit, you focused on Germany's continued support for Ukraine in restoring its territorial integrity. Berlin's position is very important to us. However, there are a number of issues on which Kyiv would like to expect a greater understanding from Germany with regard to Nord Stream 2. Was this topic raised during your meetings?
Answer: We talked about Nord Stream 2. Ukraine communicates its position to its German partners. We are well aware that this is not only an economic issue but also an opportunity to influence geopolitical processes and create an additional mechanism of Russian pressure and influence on the EU.
We, as a state which is a reliable transit country for gas and which faced many times how Russia can use this issue only politically - for pressure on another independent state, point this out to our friends. And I'm sure our partners hear us.
I understand that the decision will be made by Germany, but they should take into account the events that are happening today: Navalny's poisoning, cyberattacks, and many other things that demonstrate Russia's position on its partners, international law, and inviolability of borders. Events that can hardly be taken as friendly steps. I'm confident that the civilized world perceives this properly.
Question: You met with representatives of almost all political parties represented in the German Bundestag. Among them is Annegret Kramp-Karrenbauer, leader of the Christian Democratic Union. She is also the head of the Bundeswehr. In what capacity did she speak more?
Answer: First of all, she is the minister of defense, and we met in the ministry. It was a 100 percent meeting with the minister of defense. But she is also the head of the party. Therefore, I think it was a combination of two meetings at the same time.
We heard her personal position in support of Ukraine and her position as a representative of the German government. Fortunately, they are exactly the same.
We talked about the support we feel in terms of the treatment of our servicemen. Some 152 people have undergone and are undergoing treatment and rehabilitation. As of today, 13 of our guys are in German military clinics. This is quite serious support.
We have cooperation programs within NATO. If we talk about the status of an Enhanced Opportunities Partner, the assistance that Ukraine has received from Germany and directly from the Ministry of Defense is very important.
I am convinced that today, in the difficult conditions faced by the world due to the coronavirus pandemic, we will be able to cooperate effectively in the future with Germany directly as a state and as a member of NATO.
There are common problems that will need to be addressed. This concerns, in particular, cybersecurity. Unfortunately, this problem has become a serious threat to Ukraine, Germany and other countries.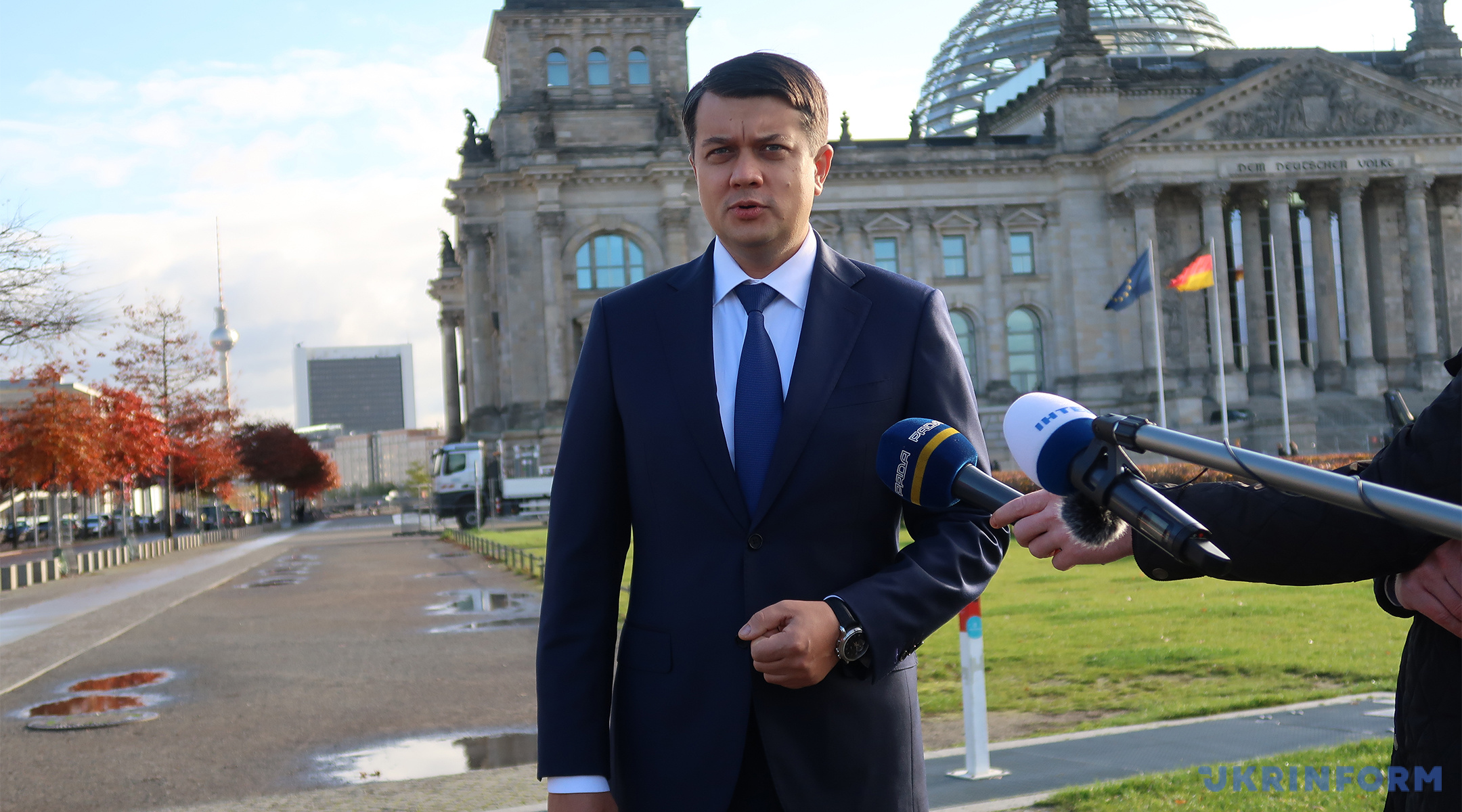 VERTICAL OF FIGHT AGAINST CORRUPTION FORMED
Question: It so happened that your visit came at a time of turbulent processes in our country. The fight against corruption and the reform of the judiciary are of great concern to our Western partners. Has the situation with the Constitutional Court of Ukraine affected your talks in Berlin? In what way were the issues of the fight against corruption discussed in general?
Answer: If we talk about the fight against corruption, then the Verkhovna Rada of the 9th convocation has already done many things, providing anti-corruption bodies with opportunities to work. It was we who returned the article for illegal enrichment. It was we who launched the High Anti-Corruption Court. If we talk about electronic asset declarations, the Verkhovna Rada has provided additional mechanisms, making this process more transparent.
To date, the entire vertical of the fight against corruption has been formed. The main thing now is that its functions should be performed efficiently.
LOCAL COUNCILS NEED PATRIOTIC, PROFESSIONAL, HONEST DEPUTIES
Question: Germany is one of the most active partners in supporting reforms in our country. Take at least the decentralization reform undertaken by Germany. It is always mentioned as a good example of reform. Did you discuss this issue in Berlin?
Answer: Yes, we did. We talked about decentralization at several meetings. Personally, I think this reform is quite effective. Yes, there are problems, there are issues that still need to be addressed, but in general, the reform is progressing. A particularly important stage was last Sunday, the local elections. This is one of the key milestones through which decentralization reform will take place. The newly elected local government will be given a large amount of authority, a large amount of responsibility, but at the same time additional financial resources that can be used for the benefit of communities.
The professional and principled approach of certain local government agencies remains the key issue. If we get patriotic, honest and professional councils, their leadership, we will get there good examples of achievements that we already see. Opportunities have multiplied.
We have passed one stage, now there will be a second. The second round of elections is ahead in many big cities, the counting of votes continues. I hope that everything will go well.
This is important for us, for the state. Of course, there are still issues related to district councils, many aspects that still need to be worked on. But I'm sure we're moving in the right direction.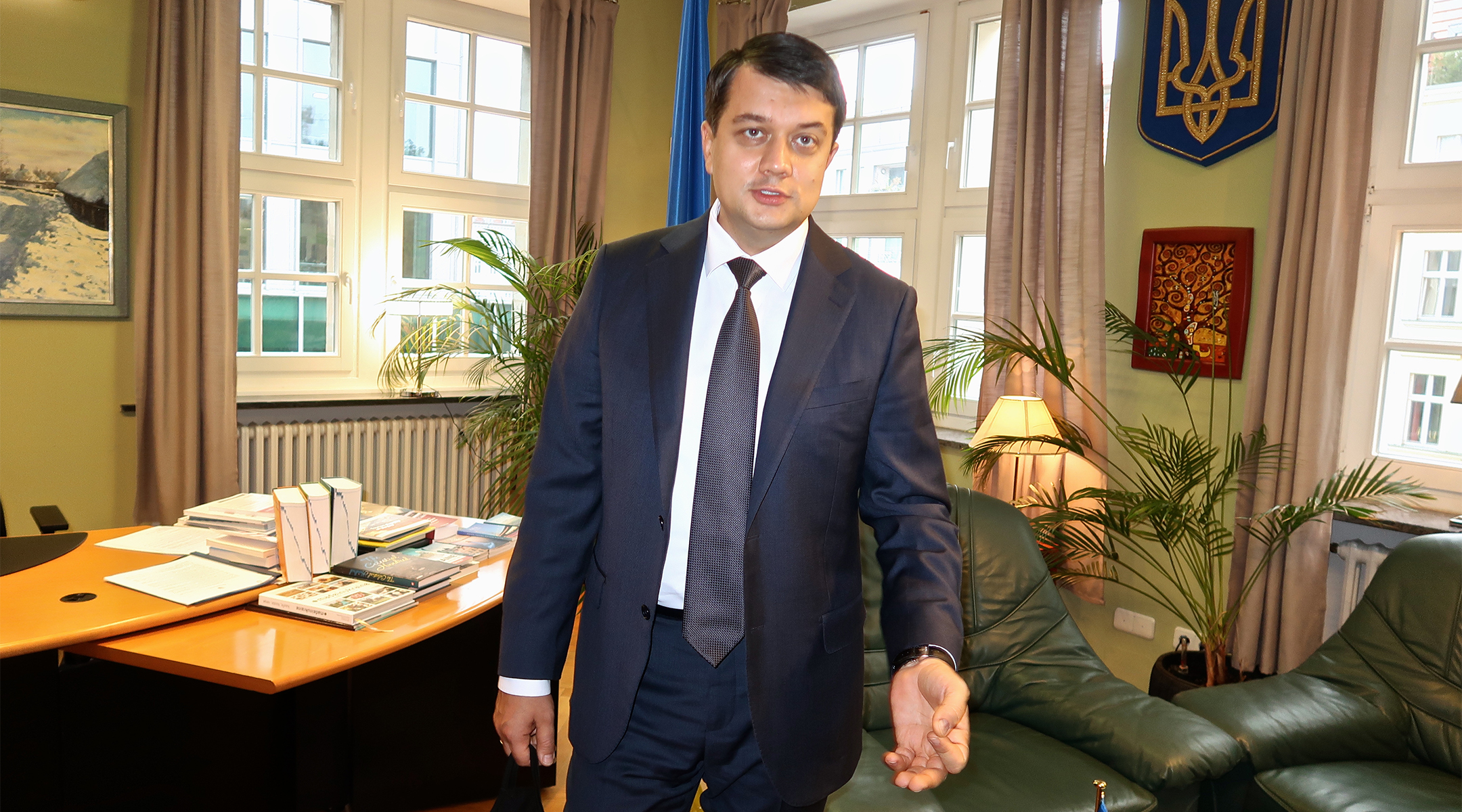 Question: How do you assess the results of the local elections? Has the open-list election system, which some considered too complicated, worked well?
Answer: Let's wait and see the results.
There are indeed questions. We had a similar system in 2015, and, unfortunately, there are examples when people got good results in their constituencies, but they did not become deputies of local councils. There are gaps, if we talk objectively. This system proved to be different in our country than in Poland.
But the problem that really arose during this election is the low turnout, the lowest in history, if I'm not mistaken - 37%. This is significantly less than in the last election. I understand that this is primarily due to the coronavirus; it has greatly influenced this process. On the other hand, turnout in local elections is always lower than in presidential and parliamentary elections.
PARLIAMENT WILL WORK FOR THE BENEFIT OF THE STATE WITH 450 OR 300 LAWMAKERS
Question: The next elections to the Verkhovna Rada of Ukraine are not coming soon. However, Servant of the People MP Mykyta Poturaiev recently suggested in an interview with Levy Bereg that Servant of the People will participate in the next parliamentary elections as two or three political groups. Do you admit that you will lead one of these groups?
Answer: Today we do not have an election campaign. I do not see any reformatting in the party yet. I think Mykyta Ruslanovych himself can comment on his own statements.
Question: Simultaneously with the election last Sunday, a poll was conducted – "Five Questions from President Volodymyr Zelensky," one of which concerned a reduction in the number of the deputies of the Verkhovna Rada by one and a half times. Will this help improve the efficiency of the parliament?
Answer: I decided on this issue not even now, but one-and-a-half years, when I said that reducing the number of deputies globally will not negatively affect the activities of the Verkhovna Rada.
I know that there are different positions in parliament: some people support this idea, and others do not. Personally, I think that even if it is reduced to 300, it will still allow us to work properly. There were 450 deputies in 1991. Today the population of Ukraine has decreased. Therefore, if we make a census and leave the same number of voters per MP, we will get a figure of about 300 deputies.
In any case, no matter how many deputies there are, the Verkhovna Rada will perform its functions and work for the benefit of the state.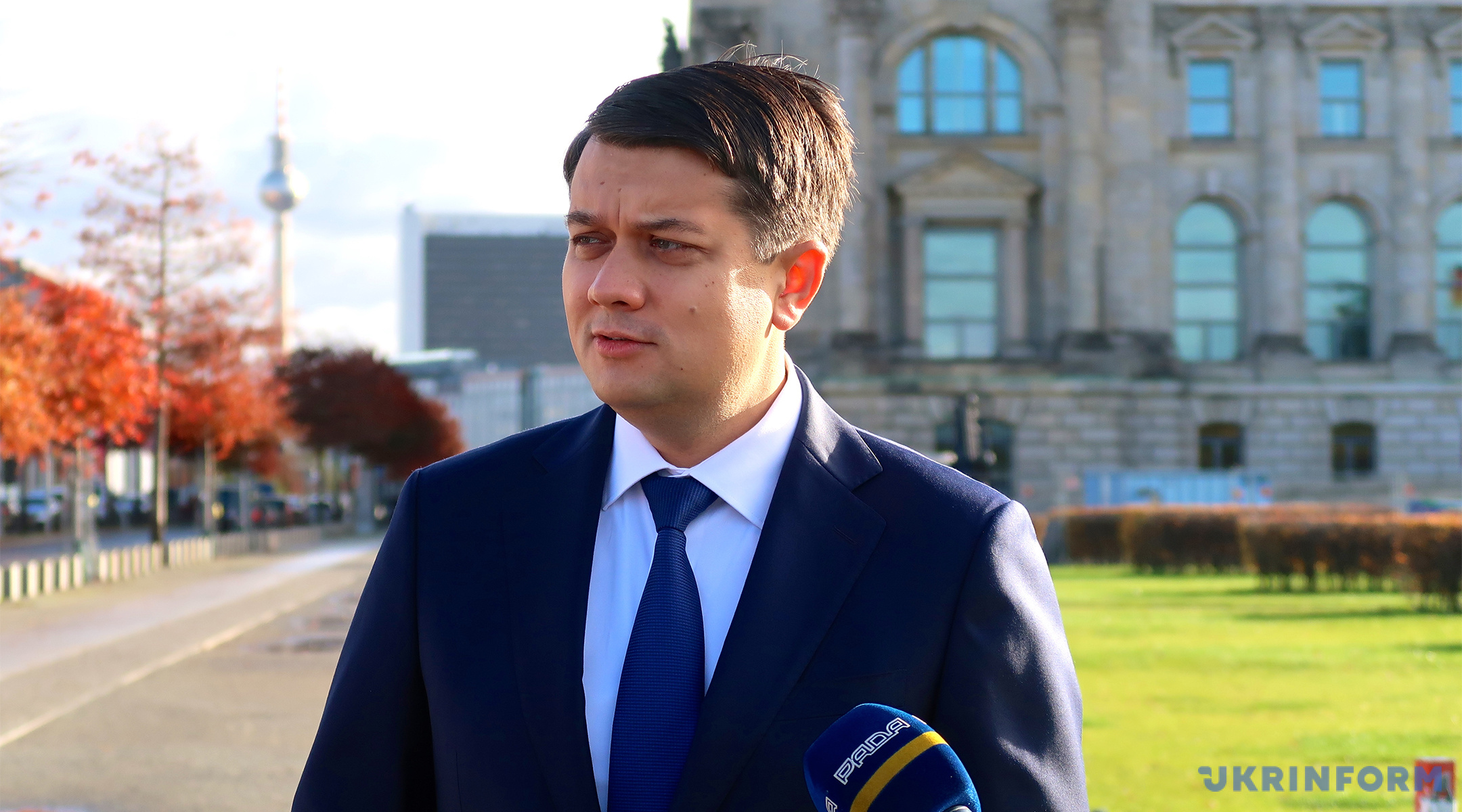 VERKHOVNA RADA UNLIKELY TO FORBID POLITICIANS TO VISIT RUSSIA
Question: Several bills have been registered in the Verkhovna Rada (in particular, No. 4136, No. 2612), which prohibit Ukrainian officials from having official contacts or holding separate talks with representatives of the aggressor country. Does the parliament plan to consider these bills, given that such trips, in particular by MPs from Opposition Platform – For Life, have become regular? Is it possible to impose sanctions in such cases on respective deputies?
Answer: This process looks good in media terms, but in terms of direct implementation it will be difficult to do so. This will slow down the process at the level of the Trilateral Contact Group, the Normandy format, other negotiations. As far as I know, as of today, these issues have not been considered by the committees, so they are not ready for consideration in the session hall. And I don't think they'll be here any time soon.
There are currently many issues of paramount importance on the agenda. The first of them is the budget.
Question: Do you hope that it will be adopted by the end of the year?
Answer: I do not promise, and I do not hope. I have only one vote. But I think that a responsible Verkhovna Rada must approve the budget in a timely manner.
In fact, we could have considered it on October 20, if not for the pandemic that made it impossible for the committee to meet. I understand that we have an opportunity to hold meetings online, but let's be realistic: looking at the budget online is a bit strange.
I think that in the near future the committee will hold its meeting and approve the table. And then there are other steps in the budget process. I will do what depends on me to ensure that the budget is adopted on time. I hope that other colleagues will take the same position.
GOVERNMENT, OPPOSITION SHOULD UNITE IN FIGHT AGAINST CORONAVIRUS
Question: Your visit to Berlin came at a time when a new lockdown was approved in Germany, just hours before it began. In terms of population, the situation in Germany in recent days can be compared with ours. Do you personally advocate at this stage for the introduction of strict measures to combat the spread of coronavirus?
Answer: Not everyone in our country has a responsible attitude to their health and the health of others. Unfortunately, I see this even in the Verkhovna Rada: there are people's deputies who are very superficial about the introduced measures and quarantine norms, despite the fact that the incidence rate in the Verkhovna Rada is quite high: more than 60 have already been ill or are ill today. The overall figures for the country are high every day.
The main thing is to save doctors. If we talk about beds for people who have COVID-19, or those with suspected COVID-19, they are still enough, there are enough in the reserve, and the state will keep on increasing them. But it is important to have enough doctors and to be able to protect their health.
We must treat everyone responsibly, including the state, because today the coronavirus has become a matter of national security.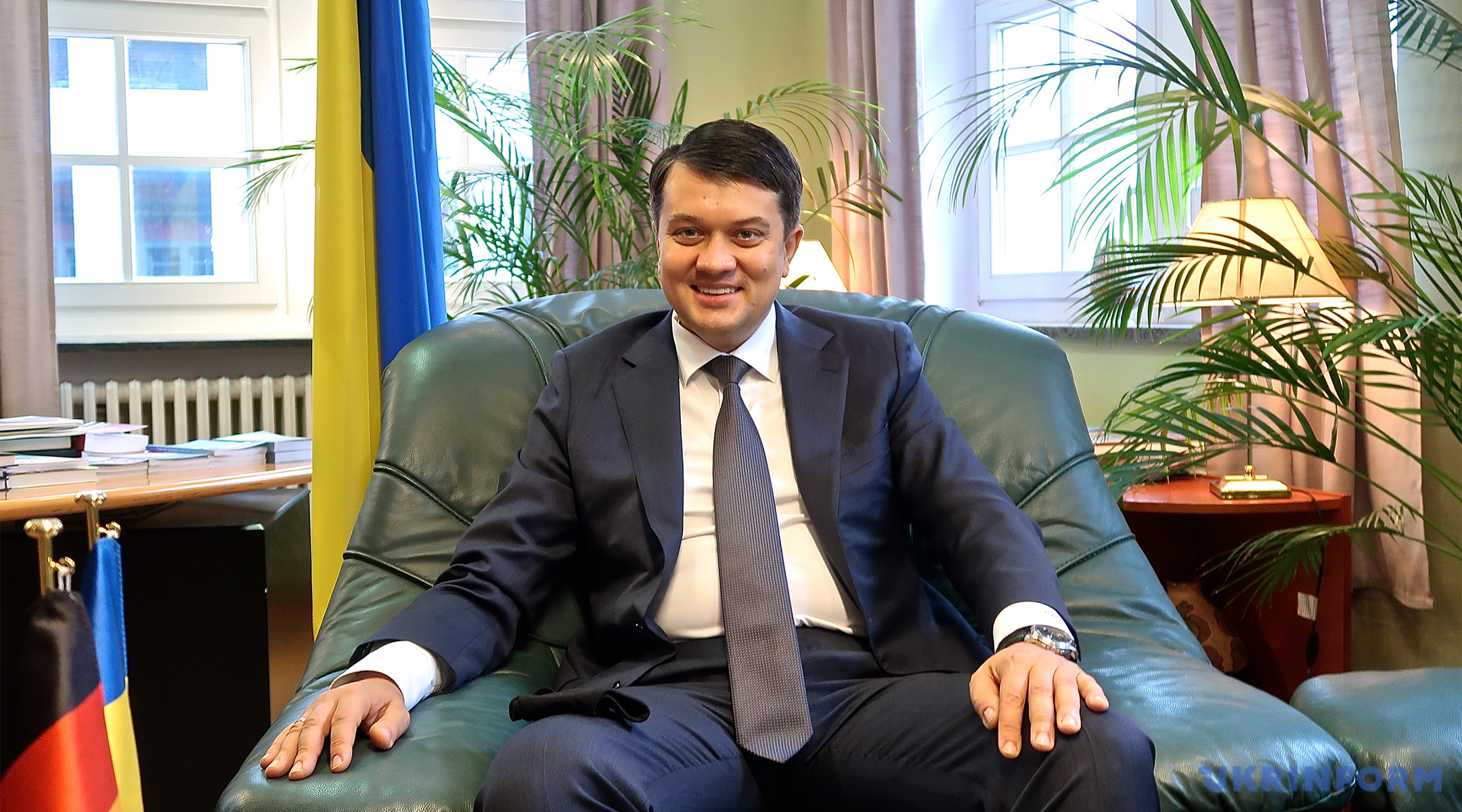 Question: If the consciousness itself does not always work, will the fines help to increase it?
Answer: Such bills are under consideration in parliament, they will be transferred to committees. If we see a worsening of the situation, and objectively we see it, then perhaps they will be considered in the session hall.
From a medical point of view, we are more or less ready, we are also ready technically. This is not spring. The Verkhovna Rada did everything possible. We created a COVID fund when we reviewed the budgets. We filled it with funds. In this regard, the parliament has fulfilled its function. There were several initiatives of the Verkhovna Rada to support small businesses and, above all, doctors. We will insist that the Cabinet of Ministers of Ukraine fulfill all the instructions given to it by the Verkhovna Rada.
Olga Tanasiichuk, Berlin
Photo credit by the author