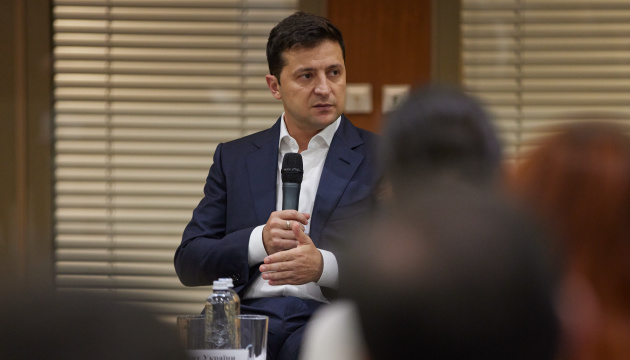 Constitutional Court judges should draw conclusions and resign - Zelensky
Ukrainian President Volodymyr Zelensky has said that the most liberal way out of the current constitutional crisis in Ukraine would be the resignation of all judges of the Constitutional Court.
He stated this live on the Freedom of Speech talk show on the ICTV channel on Monday, November 2, according to an Ukrinform correspondent.
"I believe that in order to get out of this constitutional and state collapse, the most liberal way out is that judges should draw conclusions and resign if they see the reaction of the president, parliamentarians, and most importantly, society and our Western partners. I think this is the most liberal way," Zelensky said.
He added that there are Constitutional Court judges who did not support the decision on electronic asset declaration, but, in his opinion, even they should resign.
"Then they will have a fair chance to become a judge of the renewed Constitutional Court, and it will be fair, and everyone will accept it, and society will support such a decision," Zelensky said.
On October 27, the Constitutional Court declared unconstitutional Article 366-1 of the Criminal Code of Ukraine that provides for punishment for inaccurate declaration of assets. In particular, the article establishes liability in the form of a fine or imprisonment for the submission by subjects of declaration of deliberately inaccurate information in the asset declarations of persons authorized to perform the functions of the state or local government.
On October 28, the National Agency on Corruption Prevention (NACP) closed access to the unified state register of asset declarations in pursuance of a ruling of the Constitutional Court of Ukraine. The NACP stated that Constitutional Court judges had made this decision in their own interests as the agency found signs of some of them declaring inaccurate information.
On October 29, President Volodymyr Zelensky held an urgent closed-door meeting of the National Security and Defense Council to determine measures for the state's immediate response to new threats and challenges to national security and defense.
On October 30, Zelensky tabled in the Verkhovna Rada the bill "On Renewal of Confidence in Constitutional Judiciary," which proposes to terminate the powers of judges of the Constitutional Court and declare its ruling on asset declarations "null and void."
op