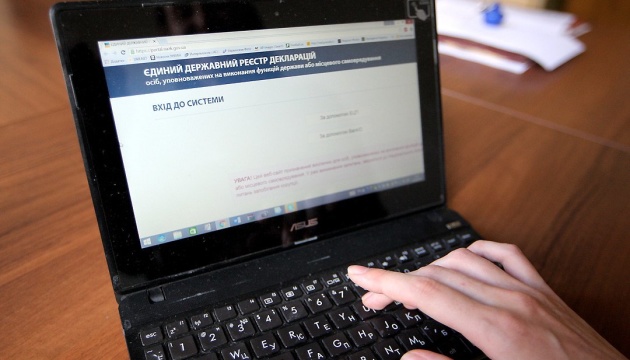 NACP reopens access to e-declarations
Ukraine's National Agency on Corruption Prevention (NACP) has reopened access to the unified state register of asset declarations in pursuance of a government decision, according to a statement posted on the agency's website.
The NACP said that the Cabinet of Ministers, at an extraordinary meeting initiated by the president, adopted an order obliging the agency to provide open round-the-clock access to the public part of the unified state register of asset declarations.
"In pursuance of the order, the NAPC has reopened public access to the register at the link public.nazk.gov.ua," the statement reads.
It notes that the decision will allow the NACP to conduct special inspections and unblock the appointment of executives in government and local government agencies.
"This is the first step towards restoring an effective anti-corruption system in Ukraine. This is an important signal from the president and the government that despite the efforts of the Constitutional Court to usurp power in the country, the anti-corruption system should not be destroyed to please the enemies of Ukraine," NACP Chairman Oleksandr Novikov said.
On October 27, the Constitutional Court declared unconstitutional Article 366-1 of the Criminal Code of Ukraine that provides for punishment for inaccurate declaration of assets.
In particular, this article establishes liability in the form of a fine or imprisonment for the submission by subjects of declaration of deliberately inaccurate information in the asset declarations of persons authorized to perform the functions of the state or local government.
On October 28, the NAPC closed access to the unified state register of asset declarations in pursuance of a ruling of the Constitutional Court of Ukraine. The NACP stated that Constitutional Court judges had made this decision in their own interests, as the agency found signs of some of them declaring inaccurate information.
On October 29, President Volodymyr Zelensky convened an urgent closed-door meeting of the National Security and Defense Council to determine measures for the immediate proper response of the state to new threats and challenges to national security and defense.
op