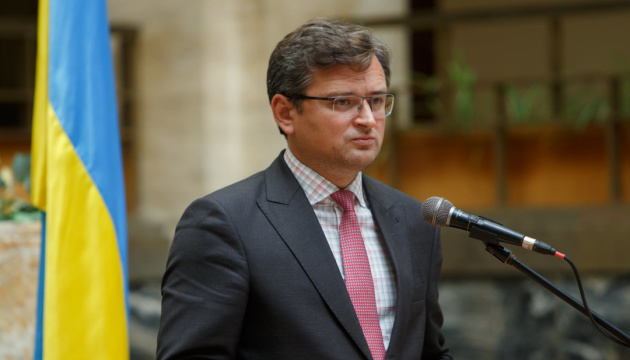 Kuleba: Armed Forces, diplomacy, sustainable society, allies are best security guarantees
No document solves the problem of Ukraine's security as its best guarantees are strong Armed Forces and diplomacy, sustainable society, and powerful international partners.
"No international or national document alone solves the problem of Ukraine's security. We saw this in 2014. The situation is much more complicated and Ukraine's security is the outcome of a set of factors. I believe that the best guarantees of Ukraine's security are strong Armed Forces and diplomacy, sustainable society, and powerful allies. These four elements together form security," Minister of Foreign Affairs of Ukraine Dmytro Kuleba said at online briefing, commenting on the issue of the Budapest Memorandum, an Ukrinform correspondent reports.
The Ukrainian society has a demand for Ukraine's security guarantees, and the Ministry will continue to work actively on the formation and creation of such guarantees, Kuleba assured.
In particular, he reminded that cooperation in the development of the Navy had been discussed during the recent visit of President Zelensky to the UK, while the establishment of cooperation in the military-technical sphere and strengthening defense capabilities had been touched upon during the President's visit to Turkey.
"Other visits and contracts are planned to help build up these forces and strengthen the guarantees I mentioned," Kuleba added.
As reported, on the local elections day on October 25, Ukrainians could participate in the President-initiated nationwide poll and answer questions related to introducing life imprisonment for large-scale corruption, creating a free economic zone in Donbas, reducing the number of Verkhovna Rada members to 300, legalizing medical cannabis, and raising the issue of the use of security guarantees defined by the Budapest Memorandum at the international level.
ol