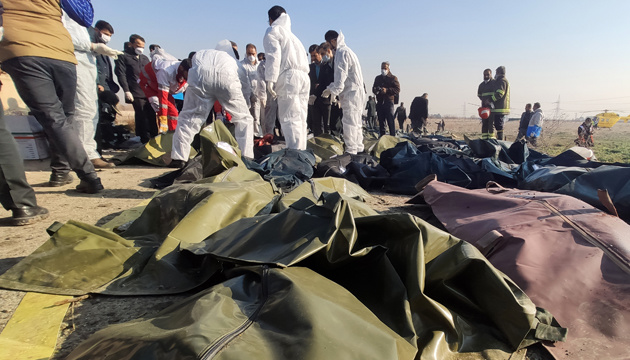 Ukraine, Iran prosecutors discuss investigation into UIA plane crash
Deputy Prosecutor General of Ukraine Giunduz Mamedov has met with prosecutor of the Tehran Military Prosecutor's Office, Golam Abbas Torquay as part of the second round of talks on the investigation into Flight PS752 crash.
During the meeting, Mamedov focused on the main areas of cooperation that will intensify the investigation: restoring the chronology of events, conducting joint investigative actions and expert examinations, analyzing flight recorders data and records from a combat vehicle from which the shots were fired, obtaining information on six people suspected of downing the plane.
"Acceptance of the voiced proposals will indicate Iran's readiness to cooperate and comply with international law," the official said, the press service of the Prosecutor General's Office of Ukraine informs.
It is noted that the Prosecutor General's Office and investigators requested permission to conduct joint investigative actions and expert examinations.
The Ukrainian delegation also visited the crash site and commemorated the victims.
As reported, on January 8, the Prosecutor General's Office initiated criminal proceedings over homicide, destruction of property and violation of air traffic safety rules (Paragraph 1, Part 2, Article 115; Part 2, Article 194; Part 3, Article 276 of the Criminal Code of Ukraine).
On January 8, 2020, Ukraine International Airlines Flight PS752 was shot down near Tehran by an Iranian surface-to-air missile, killing 176 people, including nine crew members (all Ukrainians) and 167 passengers (citizens of Ukraine, Iran, Canada, Sweden, Afghanistan, Germany, and the UK).
On July 18, France's Civil Aviation Safety Investigation Authority received Flight PS752's recorders from Iran. Ukraine's Deputy Prosecutor General Yevhenii Yenin said later that the transcript from Flight PS752's recorders had confirmed illegal interference with the plane.
Negotiations on compensation for the downing of Flight PS752 took place in Kyiv on July 30 with the participation of the Iranian delegation.
The first round of talks between Ukraine and Iran took place in late July.
ol